New York Center

Twelve Centers. A Global Network.
For more than fifty years, Dickinson has operated its own global study and research centers. These centers immerse students in the study of foreign language. They foster a deeper understanding of the political, social, cultural, and economic histories of the countries and regions in which they are located. And they form a worldwide network of living laboratories from which students can trace the causes and consequences of global forces, examine differing policy responses to global change, and assess and learn from successes and failures.

Students in the New York Center pursue coursework linked directly to internships in financial services, media, and advertising, testing theory against practice on a daily basis.

To learn more about the Dickinson-in-New York program and apply, click here.
Recent Topics/Projects:
Rachit Tiwary's spring internship at NBC turned into a full-time, yearlong position in NBC's extremely competitive and prestigious Page Program, which boasts such alumni as Ted Koppel and former Disney CEO Michael Eisner.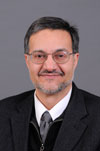 Center Leadership
Michael Fratantuono
Professor, International Studies,
International Business and Management