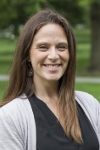 About Me
Though I was born in Washington, D.C., my family moved to Massachusetts when I was very young so I consider myself to be a Massachusetts native. I grew up in central Massachusetts, received my B.S. from Boston University, and have now settled west of Boston with my husband and our two young children!
Why College Admissions
After graduating from college, I started my admissions career. I find it incredibly rewarding to work with students as they embark on their journeys toward pursuing their passions. My advice for you during this process – keep "fit" at the forefront of your mind. If you ultimately choose the college that is the best fit for you, not only will you be happy but imagine the incredible community that's created on a college campus when the students there have all declared that college to be "their place," their "best fit."
My Region
I work with students from Maine, Massachusetts, New Hampshire, Rhode Island and Vermont. Being regionally based – I live full time here in New England – I encourage you to take advantage of my close proximity. There are many opportunities for us to meet in person throughout the admissions cycle to discuss Dickinson and your "fit" with the college. I value that Dickinson supports a personalized approach to admissions – getting to know the students I'm working with is my favorite part of the job!
Why Dickinson
The Dickinson community is incredibly welcoming! If you're looking for a small, close-knit, supportive campus community where you can easily engage with faculty, study in a challenging liberal-arts academic environment, and be encouraged to explore your interests in a vast interdisciplinary curriculum, Dickinson should be on your list. Our limestone campus and the historic "college town" of Carlisle both feel familiar and comfortable – very New England-esque! Upon graduating, our students are going on to be globally engaged citizens, positively enhancing communities beyond our beautiful campus, which is something I believe is so important in our world today.
Fun Facts About Me
Favorite coffee in Carlisle: I'm someone who is always looking for a good coffee shop, and Carlisle has great coffee! As for my favorite coffee in Carlisle, it's a toss-up between the cold brew from Denim Coffee on Hanover Street or the vanilla latte from Square Bean on High Street.

Favorite vacation spot: Good Harbor Beach (Gloucester, MA) in the summer and Jay Peak Ski Resort (Jay, VT) in the winter.

Favorite band: Zac Brown Band. Seeing them play Fenway Park is always a highlight for this lifelong Red Sox fan!
Kate Guertin
Associate Director of New England Recruitment
guertink@dickinson.edu
Follow me on Twitter @KateAtDson