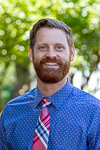 As a regional counselor, I have the great pleasure of working with and getting to know students from Michigan, North Dakota, New York, Pennsylvania, South Dakota, Wisconsin and West Virginia.
Although I was born in Missouri, Pennsylvania has always been my home. I currently live in Carlisle with my wife and three children along with my dog, Rocko, and cat, Tito. I grew up in a very small town, and one of the pieces I thought I would lose when moving to Carlisle was the sense of a close-knit community. However, having lived in Carlisle for the past eight years, one of the most important things I've come to realize is the sense of a strong and supportive community, which is reflected by Dickinson as well.
Aside from the community, I was drawn to work at Dickinson because of the college's dedication to a rigorous and practical education. Having been a teacher prior to working at Dickinson, education is a priority for me, and I believe Dickinson provides one of the best curricula for college students. In addition, Dickinson is a leader in sustainable and global education, which means students are challenged to think about the greater questions that they will carry with them forever as lifelong learners.
Fun facts:
When not in the office I love cycling around the beautiful Pennsylvania countryside.

Before I settled on education I achieved my private pilot's license in hopes that I would fly for a living. Turns out things change!

A hidden secret (not even my colleagues know) is that I love creating videos! Casey Neistat, Peter McKinnon, Dan Mace and Jon B. are big inspirations for me.

Find me locally: At any one of the fantastic Carlisle eateries (especially Molly Pitcher Brewing).

I wish you could find me: Riding historic Alpe d'Huez, France.
All the best,
Jesse McDonald
Associate Director of Admissions
(He/Him/His)