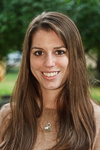 Thanks for your interest in Dickinson! As an alumna and the regional admissions counselor for Virginia, North Carolina, South Carolina, Georgia and Tennessee, I look forward to getting to know you.

Originally from Los Angeles, I discovered Dickinson as a high school junior when I was searching for a small and academically rigorous liberal-arts college on the East Coast. I was looking for a place with excellent academics, study-abroad options and strong student-faculty relationships. I was fortunate enough to study abroad for an entire year in Norwich, England, at the University of East Anglia while pursuing a major in medieval and early modern studies. After finishing at Dickinson, I got a master's degree in medieval studies before returning to my alma mater to join the admissions team!

Fun Facts:
Favorite place on campus: The East Asian Studies room in the Waidner-Spahr library. It's where I spent most of my senior year writing my honors thesis.
Leo's or Massey's: Trick question! Both! I've found that I can pick up some Massey's frozen custard and eat it while I walk to Leo's for amazing homemade ice cream.

Favorite Dickinson tradition: I love the tradition of signing in and out of the college. Knowing that my name is part of a tradition that spans centuries reminds me that I'm part of something bigger.

Please do not hesitate to contact me at hallam@dickinson.edu if you have any questions. I look forward to hearing from you!
All the best,
Amy Hall '12
Associate Director of Southeastern Recruitment and Coordinator of Admissions Volunteer Network