TIX Peer Educators
TIX Peer Educators are dedicated to preventing sexual and gender-based discrimination and harassment though education and awareness events. TIX Peer Educators fulfill their mission to create a safe, respectful and inclusive campus community in part through their educational programs, including extended orientation and on-going workshops about healthy relationships and bystander intervention. Peer Educators connect and can support their peers in understanding the College process and the support services and resources available to students.
2019 Peer Educator Applications - we are looking for new peer educators!
If you are interested in this volunteer position, please complete the application by April 10, 2019 at 4PM. Once you fill out the application, sign up for a 30-minute interview.
If you have any questions, contact Peer Educator Sivan Komatsu at komatsus@dickinson.edu or Deena Kleinstein at kleinstd@dickinson.edu.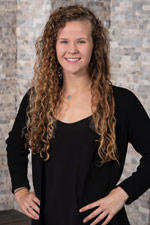 Co-Director
Emily Padalino
Pronouns: She/Her/Hers
Class Year: 2019
Major: Political Science
Minor: History
Other Activities on Campus: Women's Varsity Basketball and Kappa Kappa Gamma
Why I am a Peer Educator: I want to help raise awareness and promote a safer community here at Dickinson and society as a whole. I want to encourage dialogue about issues that impact so many people and work to create safe spaces to have these necessary discussions.
padaline@dickinson.edu
Kylie Shalala
Pronouns: She/Her/Hers
Class Year: 2021
Major(s): International Affairs and Spanish
Other Activities on Campus: Varsity Cross Country, Varsity Track and Field, Community Service Leader
Why I am a Peer Educator: I want to encourage a safe and inviting space around campus, as well as an environment that is respectful, positive, and fun!
shalalak@dickinson.edu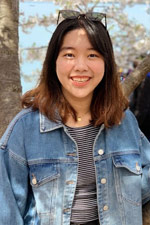 Nhi Ly
Pronouns: She/Her/Hers
Class Year: 2022
Major: Intended Majors (East Asian Studies and Women's, Gender, and Sexuality Studies)
Other Activities on Campus: English Writing Tutor at Norman M. Eberly Multilingual Writing Center, Project Manager at the Popel Shaw Center for Race and Ethnicity, Co-coordinator for CARES (Dickinson CommServe Program), Treasurer for AAAC (Asian and Asian American Club) and WIND (We Introduce Nations at Dickinson).
Why I am a Peer Educator: I grew up not receiving any sex education and I recognized that there were so many problems regarding this topic. I want to use my opportunity as a Peer Educator to gain more knowledge to become a helpful resource for Dickinson students and people in my country.
lynh@dickinson.edu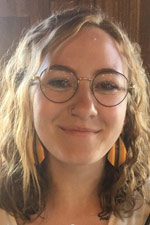 Areya Campbell-Rosen
Pronouns: She/Her/Hers
Class Year: 2022
Major: Psychology and Chinese
Other Activities on Campus: PALS Exec, APO member, Outing Club member
Why I am a Peer Educator: It is my goal to educate every member of the Dickinson community on the resources that are out there on TIX related issues. I want everyone to feel as though they are being heard and respected with regard to sexual and gender- based issues.
campbela@dickinson.edu
Brigette Stickney
Pronouns: She/Her/Hers
Class Year: 2020
Major: Biochemistry and Molecular Biology
Other Activities on Campus: Outing Club Leader, Service Trip Leader, First Year Mentor, Pre-Health Society Member, Outdoor Education House Manager
Why I am a Peer Educator: I became a YWCA rape crisis hotline volunteer last year to help learn and provide resources/counseling services to sexual assault survivors. After this experience, I became very interested in expanding on this to be involved in sexual assault prevention education, specifically to the Dickinson community, to help build a safer campus and contribute to reducing sexual assault through education and outreach events.
stickneb@dickinson.edu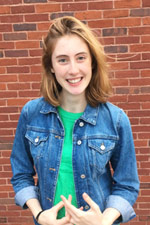 Freya Whittaker
Pronouns: She/Her/Hers
Class Year: 2021
Major(s): Psychology and French & Francophone Studies
Other Activities on Campus: Alpha Lambda Delta and Psi Chi Honor Societies, Tour Guide, Quantitative Reasoning Tutor, Library Services Consultant
Why I am a Peer Educator: I want every member of Dickinson's community to feel supported, empowered, and safe here. I hope to be a resource and positive force on campus to help make this a reality.
Maddie Littlepage
Pronouns: She/Hers
Class: 2021
Major: International studies
Minors: German & Security studies
Other activities: Varsity Swim Team, Costume Shop, IS majors committee, Mermaid Players
Why I am a peer educator: I want to make Dickinson a safe, inclusive, and respectful campus for all students, faculty, and staff.
littlepm@dickinson.edu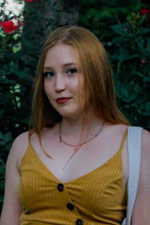 Tori Wagner
Pronouns: She/Her/Hers
Class Year: 2020
Major(s): Neuroscience
Other Activities on Campus: Choir, Mermaid Players, Neuroscience Teaching Assistant
Why I am a Peer Educator: I want to support survivors through the healing and College processes and improve the resources available to them. Dickinson can and should be a safe environment for students to discuss and learn about topics that improve their sexual health and relationships regardless of their gender or sexual identity.
wagnerv@dickinson.edu
Gita Elangbam
Pronouns: She/Her/Hers
Class Year: 2021
Major(s): Biology Major with Health Studies Certificate
Other Activities on Campus: Medical Scribe with CIMS, Volunteer at Thornwald Home, Facebook Page Manager for WOC Summit
Why I am a Peer Educator: Sexual violence and discrimination can happen anywhere, on or off campus. Especially to people of color and members of the LGBTQ community. I want to be a resource about sexual consent for other fellow survivors.
Pete O'Sullivan
Class Year: 2022
Major: Law & Public Policy
Minor: Economics
Other Activities on Campus: Men?s Varsity Lacrosse, Liberty Cap Society Tour Guide, First Year Pre-Orientation Leader
Why I am a Peer Educator: I love making a direct positive impact on campus, and believe strongly in the mission the Title IX office works to accomplish.
osullivp@dickinson.edu