Dickinson is one of only a handful of liberal arts colleges that maintains its own study-abroad program in Russia. Working closely with Russian faculty at Dickinson, the on-site director helps students register for courses and serves as their liaison to the university's administration. The director makes housing arrangements, carefully selecting a host family for each student. Furthermore, the director plans a variety of excursions and accompanies students on program-sponsored trips to St. Petersburg, Novgorod, Kazan, Pskov, and Vladimir. The resident director's role in guiding the students through a challenging path of cultural adaptation and social accommodations in Russia is indispensable.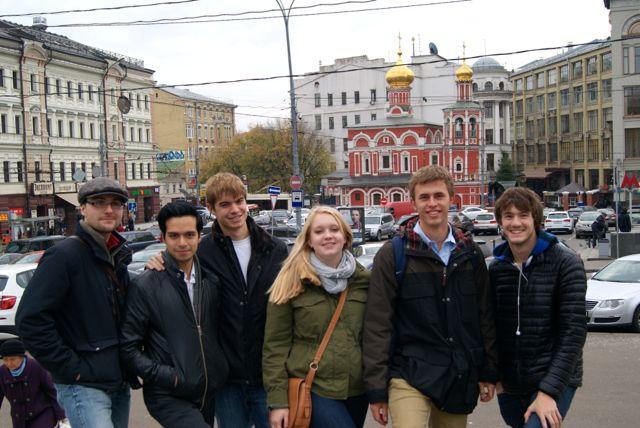 Moscow, Russia
The city of Moscow, founded in 1147, is now a modern center for international trade with more than 10 million inhabitants. It has retained much of its old-world character, including many opulent buildings capped with the traditional "onion domes" often associated with the city. Moscow honors its rich literary tradition and has preserved the homes of some of the world's best writers, including Tolstoy, Dostoevsky and Chekhov. The arts remain an integral part of daily life for many Muscovites, who take full advantage of inexpensive tickets for live dance, music and theater performances. In the post-Soviet era, Russia exhibits a vibrant, creative spirit, visible in radical new theater productions and audible in the rap and world-beat music heard on the streets.
Russian State University for the Humanities
The Dickinson-in-Moscow program is based at the Russian State University for the Humanities (RSUH), one of the most dynamic and modern universities in Russia. Currently, RSUH serves more than 5,000 students. It houses 13 BA and 19 MA programs, and offers 39 majors.

Academics
At RSUH Dickinson students take the majority of their classes at the Department of Russian as a Foreign Language, but they may also take any other classes with Russian students. (They are encouraged to do so during their second semester in Moscow). They typically have 3-4 classes a day, 5-6 days a week. While on average, students might expect to spend less time on their homework than at Dickinson, they definitely spend more time in classes. (You can learn more about Russian Higher Education and how it differs from the American system).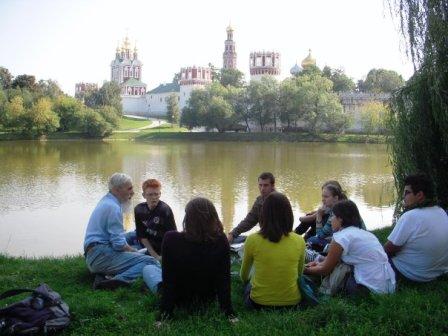 Students arrive at least 10 days prior to the beginning of classes at RSUH. During that time they go through an orientation program which is designed to prepare students for the daily life in Moscow. The program includes familiarizing students with the RSUH campus, the surrounding neighborhood, the Moscow metro, and the areas where students live. Along with this walking tour of Moscow, the program provides an intensive 10-day course, "Russian for Survival in Moscow".
Although course offerings may vary from year to year, the following classes are typically chosen by Dickinson-in-Moscow students: Russian Language in Context; Writing Workshop; Topics in Russian Studies; Intellectual, Historical, and Cultural Aspects of Russian Orthodoxy; Visual and Performing Arts in Russia; Russia Today.

Students participating in a year-long program are required to complete a Research Project in Russian History or Politics which is carried out in conjunction with a course on Russian history or politics they take at RSUH in Russian. Read some research projects of the students. RSUH and the Department of Russian as a Foreign Language offers program participants opportunities to meet Russian and foreign students. These opportunities include student conferences.

For the successful completion of a semester in the Moscow program, participants receive 3-4.5 credits, applicable to the Russian major or minor.
Internships
The choice of Russia's capital city for the program's home base is intentional: Moscow is home to some of Russia's finest universities, libraries, theaters, museums, and art galleries. Living in Moscow gives students very unique educational and cultural opportunities. Because it is a home of embassies, international businesses, NGO offices and publishing houses, Moscow is the perfect place to arrange for the most interesting internships.
Excursions and Trips
The Dickinson-in-Moscow program offers students a full list of cultural opportunities. Every week students see exhibits, attend concerts and theater productions, visit writer's homes, and take day trips to see small towns outside of Moscow. Long distance trips include St. Petersburg, Yasnaya Polyana, Gorki Leninskie, Pskov, Novgorod the Great, Volgograd (Stalingrad), Kazan, Kiev, and the cities of the Golden Ring (students are given a choice of several cities per semester). During semester breaks students may go to Siberia or the White Sea on their own.
Host Families
While in Moscow, each student lives with a specially selected family. This gives participants a unique opportunity to speak Russian in a casual setting. Students and families learn from one another and often forge lifelong friendships.
For more information, contact
Prof. Elena Duzs, On-Campus Coordinator, Department of Russian, Dickinson College. P.O. Box 1773 Carlisle, PA 17013-2896 Phone: (717) 245-1276 E-mail: duzs@dickinson.edu.