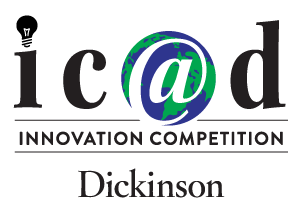 The Innovation Competition at Dickinson (IC@D) was developed by Edward Finocchiaro '15, Alex Torelli '16 and Philip Velez '15 with guidance from Associate Professor of International Studies, Business and Management Michael Fratantuono and Associate Professor of International Business and Management Helen Takacs.
The IC@D offers a competitive platform for entrepreneurial students to pursue an idea that they are passionate about. Working in interdisciplinary teams, and in collaboration with alumni mentors, students will develop their idea over three rounds of competition to create a business plan canvas. The level of detail will increase with each submission, and three teams will be selected to pitch their idea to a panel of alumni, faculty and staff judges in the final round on May 3, 2018.
In the interest of keeping consistent with the three pillars of a Dickinson education, teams must be interdisciplinary, ideas sustainable in nature, and they may be local or global in scope. Dickinson's definition of sustainability encompasses social, environmental and economic dimensions.
Teams will have access to the ample resources the college has to offer, student groups like the Idea Fund and the Student Investment Group (SIG), and the opportunity to receive mentorship and feedback from alumni.
sponsored in part by: