A Dickinson Living Laboratory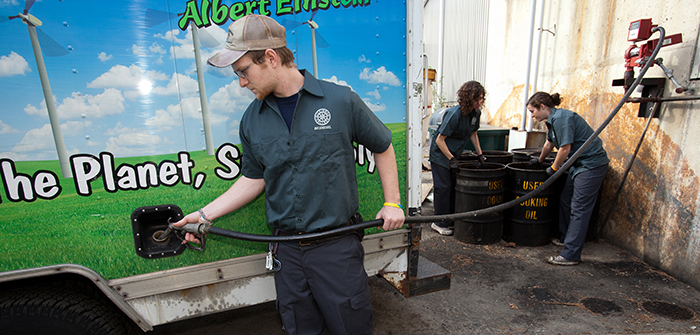 Students Produce Fuel from Waste Vegetable Oil
Mission
The Dickinson Biodiesel Program is a living laboratory project and small-scale production operation at the College Farm that creates educational opportunities for students, faculty and staff and provides the college campus with a sustainable, alternative fuel source.
Operational History


Founded by two students, Jennie Bernstein '06 and Kim Ogren '08, the program continues to be operated by students at the College farm under the supervision of Matt Steiman, Assistant Farm Manager. Over time, student interns have been involved in a variety of biodiesel-related projects that include: production of biodiesel from used waste vegetable oil; quality testing; soap production from glycerol; education to internal and external communities on how to make biodiesel; strategic planning for the shop; and research projects.


Education & Outreach


The Dickinson Biodiesel Program partners with different community and collegiate resources to spread the word about biofuels and alternative energy sources. Each year we offer a small-scale biodiesel lab with the Environmental Studies Department and frequent tours for a variety of audiences. This allows students to make small batches of fuel and gain some hands- on experience. We encourage our students to attend professional meetings and conferences as much as possible to share and network with others in the biofuels production industry.


Information & Tours
The Biodiesel Program is under the direction of the Dickinson College Farm. Contact farm@dickinson.edu for more information.
We welcome tour groups, conference calls, and basic educational consulting services to others interested in biodiesel production.
For more information on the Biodiesel Program contact:
 

Matt Steiman
Assistant Manager
Dickinson College Farm

717.245.1969
steimanm@dickinson.edu