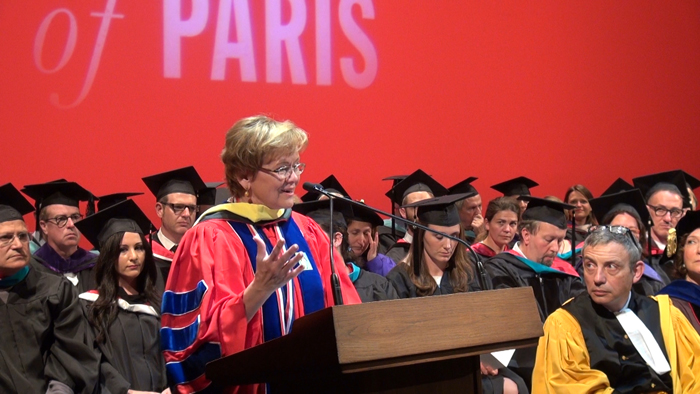 In 2015, Ensign received an honorary degree from the American University of Paris for her pioneering academic and humanitarian work.
Biography
Before being named Dickinson's 29th president, Margee Ensign served for seven years as president of the American University of Nigeria (AUN), a young, private university focused on development based on the U.S. model of university education. There, she oversaw the building of the sustainable campus, the creation of the finest digital library on the continent, and a very active program of community engagement and humanitarian assistance. AUN is located in Yola, the capital of Adamawa state, one of the three northeastern Nigerian states that have been under a state of emergency because of the Boko Haram insurgency. To deal with the crisis, Ensign co-founded and led the Adamawa Peace Initiative (API), a Yola-based response to the escalating violence, which successfully promoted peace in the area through education, empowerment and community development while feeding 300,000 refugees fleeing the fighting to the north.
Ensign presented at the World Economic Forum in 2014 on higher education and its role in economic and social development, the university as an agent of social change and digital learning for Africa.
She has been internationally recognized for her pioneering work at AUN, including receiving the 2011 African Leadership Award in Educational Excellence, granted by London-based African Leadership Magazine. Rotary International made her a Paul Harris Fellow in 2012. In 2014, Ensign received the African Leadership Award from the World Centre for Corporate Social Responsibility. In 2015, the Women of Jama'atul Nasril Islam in Nigeria recognized her for her contributions to leadership, philanthropy, and education of women and girls in northeast Nigeria. She was a warden for the U.S. embassy in Nigeria, a volunteer position assisting with U.S. citizens in the northeast region. She also received an honorary degree from the American University of Paris for her pioneering academic and humanitarian work.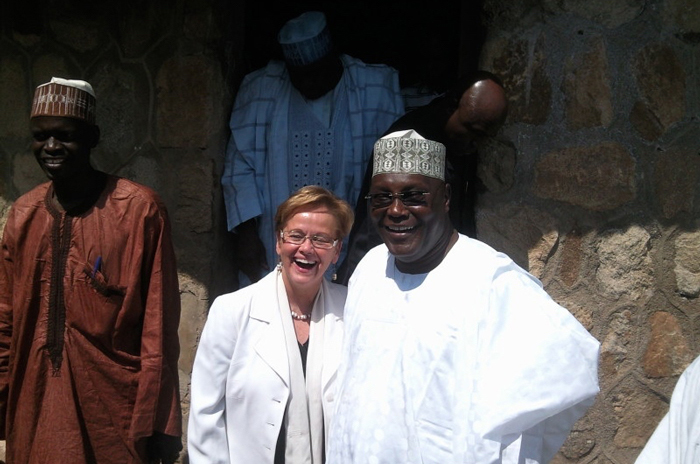 Ensign with His Excellency Atiku Abubakar, founder of AUN.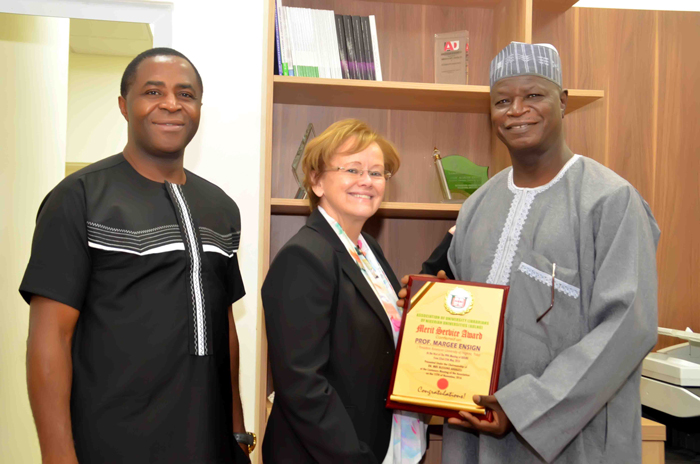 Ensign accepts an award recognizing AUN as having one of the best digitally based libraries on the continent.
Ensign has worked in Africa for 15 years and has served as an advisor to the governments of Uganda and Rwanda. She is a widely published scholar whose work focuses primarily on the challenges of international development as well as on the implications of development assistance. She co-authored Rwanda: History and Hope, co-edited Confronting Genocide in Rwanda and is the author of Doing Good or Doing Well? Japan's Foreign Aid Program and Images and Behavior of Private Bank Lending to Developing Countries.
Prior to AUN, Ensign served as dean of the School of International Studies and associate provost for international initiatives at the University of the Pacific in California. At Pacific, she set up undergraduate and graduate programs in social entrepreneurship, inter-American studies and intercultural relations. She also established the Gerber Lecture Series that attracted such globally renowned speakers as Archbishop (emeritus) Desmond Tutu of South Africa, President Michelle Bachelet from Chile, President Paul Kagame of Rwanda, Vice-President Gilbert Bukenya of Uganda, President César Gaviria of Colombia, and Prime Minister Gro Harlem Brundtland of Norway.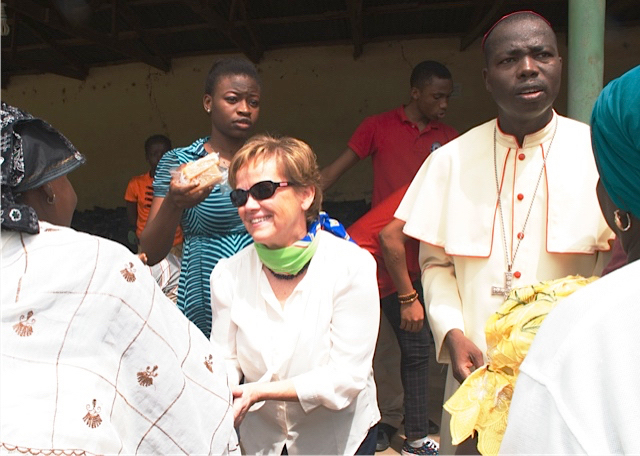 Ensign helps distribute food to internally displaced people.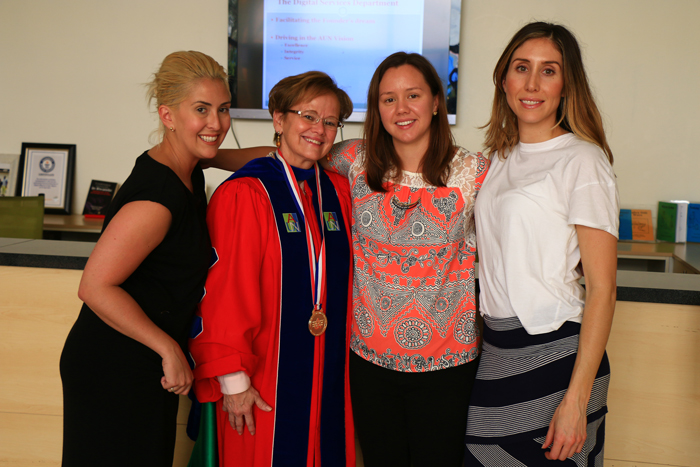 Ensign's niece, Kathleen Ensign; Margee Ensign; her daughter, Katherine Aronson-Ensign; and Ensign's niece, Veronica Ensign.
Ensign earned her B.A. from New College in Florida and her Ph.D. in international political economy from the University of Maryland. She began her academic and administrative career at Columbia University in New York City. There, she was both assistant professor of politics and economics and director of the international political economy program.
From Columbia, she became director of USAID's development studies program at Tulane University and a professor at Tulane's international development program, offering advanced programs at the master's and Ph.D. levels in international development. She also has taught as visiting professor at Georgetown University and American University in Washington, D.C.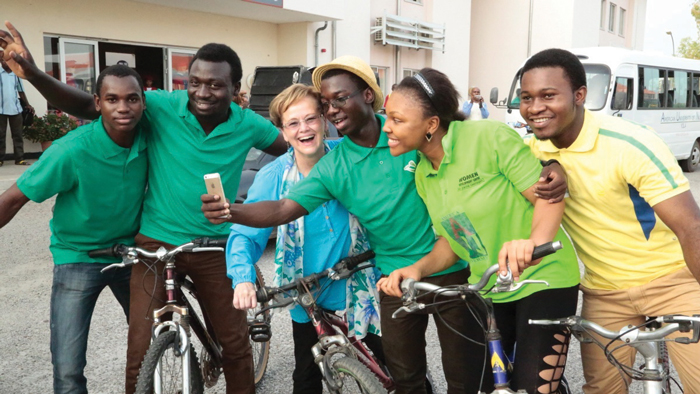 Ensign with students in AUN's environmental club.