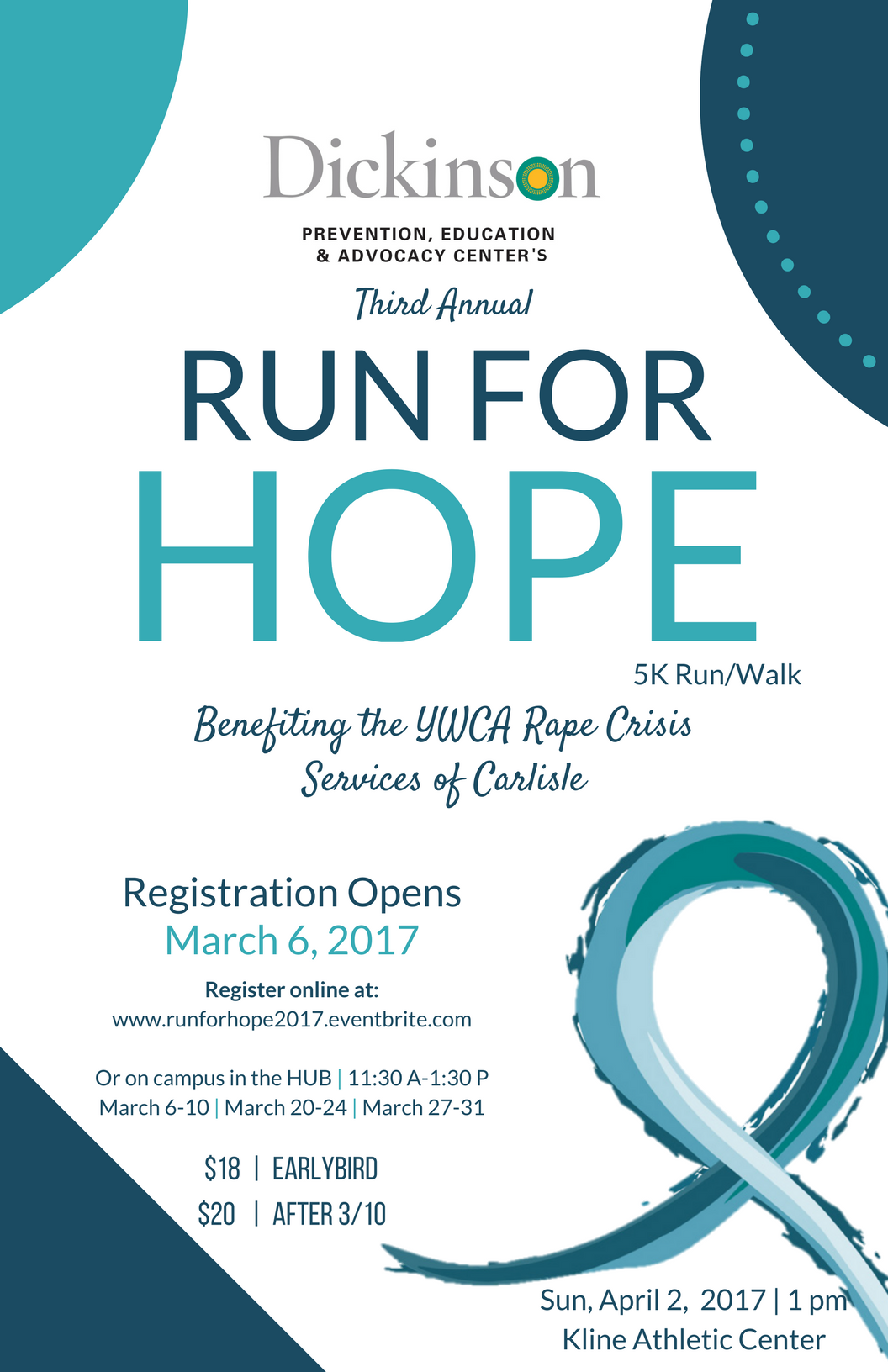 ---
The third annual Run for Hope 5K run/walk will take place on Sunday, April 2nd at 1 PM at the Kline Athletic Center. The run benefits the YWCA Rape Crisis Services of Cumberland and Perry Counties. The run is open to the entire Dickinson and Carlisle community.
To register for the run, click here.
One in five women and one in sixteen men will be victims of sexual assault while in college. We believe these statistics can change and that we all have a role to play in making a difference.
Two years ago Greek women at Dickinson College, in collaboration with the Prevention, Education & Advocacy Center and Student Life, held the first annual Run for Hope 5K as a way to spread awareness and mobilize our community in support of those who have experienced sexual violence. The event brought over 600 participants and raised nearly $4,000 for the YWCA Rape Crisis Services. Run for Hope exceeded everyone's expectations, breaking College records for campus participation in a 5K fundraiser. We could not have done it without support from the entire community.
The YWCA has been helping to empower and advocate for girls and women for nearly a century. Today the YWCA provides a 24 hour rape crisis hotline, counseling and advocacy support, after school programs for youth, preschool, and many other services to people of all ages and genders. YWCA staff work with great commitment to make our community as inclusive and safe as possible.
A special thank you to all of our co-sponsors on and off campus:
Greek women, Student Leadership & Campus Engagement, the Wellness Center, the Dean of Students Office, the President's Office, the Women's & Gender Resource Center, the Departments of: Archaeology & Anthropology, Creative Writing, Education, English, Health Studies, Spanish & Portuguese, and Women's, Gender & Sexuality Studies. A special thank you to local businesses including: Massey's, Alibis, the Historic Society, Miss Ruth's Time Bomb, Miseno's, and Helena's.