Anna Kozlowska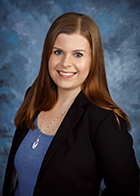 Position
Social Science Liaison Librarian
Education
MLIS, Library and Information Science – Dominican University (2011)
MA, Political Science – Northeastern Illinois University (2009)
BA, Political Science, Public Relations and Advertising – Giedroyc's College of Communication and Social Media in Warsaw (2006)
Certificate, Information Literacy Immersion Program Track, Association for College & Research Libraries (2014)
Contact Information
Email: kozlowsa@dickinson.edu
Phone: (717) 245-1849
Fax: (717) 245-1439
Location: Library Office 7
If I am unavailable, please ask at the Circulation Desk (717-245-1397) to see if there is another librarian available, or send an email to library@dickinson.edu describing your research need.
Liaison Librarian to:
Background and Areas of Expertise
While earning my Masters Degree in Library and Information Science, my primary academic areas of concentration were social sciences, business research, government documents and law. In addition to my library degree, I also received a M.A. degree in Political Science with a primary focus on international relations and comparative politics. I feel invigorated working with traditional, nontraditional, and international student populations.
I can be of particular help with:
Conducting specialized research and implementing strategies to obtain current, reliable and relevant information
Academic inquiries related to social sciences, business and law
Instructing on appropriate use of databases and other library resources
Critically evaluating sources
Citations and writing styles
Searching for information outside of American libraries