Theresa Arndt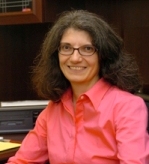 Position
Assoc. Director for Library Resources & Administration, July 2011 to present
Past Positions at Dickinson
Assoc. Director for Research & Instructional Services, 2006-2011
Education
MLS, SUNY-Buffalo
BA, Psychology & English, Case Western Reserve Univ., summa cum laude, Phi Beta Kappa
Certificate, Leadership Institute for Academic Librarians, Harvard Graduate School of Education, Aug. 2008
Contact Information
If I am unavailable, please ask at the Circulation Desk (717-245-1397) to see if there is another librarian available, or send an email to library@dickinson.edu describing your research need.
Liaison Librarian to:
Background and areas of expertise
I began at Dickinson College in July 2006. As Associate Director for Library Resources & Administration, I am responsible for management of the library's collections and technical services, as well as administrative responsibilities in project management, communication and assessment.
Before coming to Dickinson College, I spent over 10 years as an academic pharmacy and medical librarian working at the University of the Sciences in Philadelphia, the University of Nebraska Medical Center, and the University of Michigan Medical and Public Health libraries.
My areas of interest include conducting and teaching information retrieval to support healthcare related research and evidence-based practice. I am particularly interested in helping students acquire the critical appraisal skills they need to evaluate information, given the political, social, ethical, and economic issues that can affect the way in which information is produced and disseminated.
Recent Publications & Presentations
Poster: Arndt TS, Wardecker M, Ye Y, Magoon J, Blake M.

A digital story telling approach to academic integrity instruction via Moodle

. Association of College & Research Libraries Annual Conference. Philadelphia, PA, 2011. [more information]
Arndt TS.

Services in a (post)Google age

. Reference Services Review. 2010; 38(1): 7-9. [link to fulltext]
Arndt TS.

Reference without the desk

. Reference Services Review. 2010; 38 (1): 71-80. [link to fulltext]
Poster: Arndt TS.

Outreach to an Undergraduate Health Studies Program

. Medical Library Association Annual Meeting. Honolulu, HI, 2009.
Poster: Arndt TS, Dermott MO and Brunskill A.

Red, Yellow, Green: A Simple System for Collaborative Review of a Reference Collection

. Medical Library Association Annual Meeting. Honolulu, HI, 2009.
Martin PW, Arndt TS, Rana GK.

Clinical use of PDAs: the library's role in bringing medical information to the point of care

. Journal of Electronic Resources in Medical Libraries. 2006; 3 (2): 83-90.
Gruppen L, Rana GK, Arndt TS.

A controlled comparison study of the efficacy of training medical students in evidence based medicine searching skills

. Academic Medicine. 2005 Oct; 80 (10): 940-4.

Depression and Depressive Disorders

. In: Anderson PF, Allee NJ. Medical Library Association Encyclopedic Guide to Searching and Finding Health Information on the Web. Volume 1: Diseases and Disorders/Mental Disorders. NY, NY: Neil-Shuman Publishers, 2004.