Orientation & New Student Programs Summer Staff
The Student Director of New Student Programs and a First Year Coordinator are primarily responsible for assisting in the organization and execution of Orientation and the associated First-Year Experience programs. During the summer, the directors serve as a point of contact for incoming first-year students and families as they prepare to begin their college experience at Dickinson. When the remaining First-Year Experience coordinators arrive on campus, they guide the coordinators through training and serve as support for the First-Year Mentors during Orientation.
Asir Saeed
Student Director of New Student Programs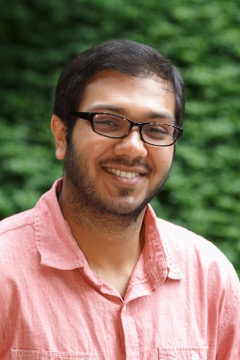 My name is Asir, I am an international student from Dhaka, Bangladesh. Coming to Dickinson College all the way from
Bangladesh has been quite an experience. When I look back at the person I was when I climbed up to the steps of Old West two years ago, I honestly cannot recognize him. Dickinson has given me a deep respect for the liberal arts, a strong sense of responsibility towards my community and a feeling of belonging that I never had before.
Apart from orientation, I am a tutor at the Norman M. Eberly Writing Center, the treasurer of the Muslim Student Association and until recently I worked in the Office of Religious Life. I am a rising senior majoring in Computer Science and minoring in Japanese. For the spring semester of my junior year I studied abroad in Nagoya, Japan. While I went to Japan with intentions of enhancing my Japanese language skills and immersing in the culture, I ended with up so much more. I made connections that I would treasure for a lifetime. While post-graduation plans are still a little bit up in the air, I hope to one day go back to Bangladesh and teach on a college level.
I have been working with New Student Programs since the spring semester of my first-year, as a First Year Experience Coordinator for two years and then becoming the Student Director. I'm excited to be able to continue contributing to the program and making the experiences of incoming students as great as mine was.
Alyson McAtee
First Year Events Coordinator
I am a rising sophomore from Pittsburgh, Pa., and a proud graduate of the Milton Hershey School in Hershey, Pa. After having visited Dickinson College for a Rotary International meeting, I loved it! After going through some inevitable first-year struggles, and the help and support of faculty and other students, I began to find my way. One of the most amazing things about Dickinson and my brief experience with the liberal arts is that I've taken classes in seven different departments, and I love everything.
In addition to being a First-Year Coordinator, I am also a Liberty Cap Society member and I this coming year I will serve as the Treasurer of the Latin American and Caribbean Club. I look forward to next semester, as I have some really awesome classes lined up, and of course, the class of 2019 will finally be here!