Dickinson College Pre-Orientation Adventure program is a two-and-a-half day, small-group, theme-intensive experience open to incoming first-year and transfer students.
Students will begin their Dickinson experience by participating in one of our many programs designed for 10-15 students. Combining experiential education, team-building, early involvement, and leadership adventures, each program introduces students to Dickinson through interaction with new and current students, faculty, and staff. The Adventures cost $300, $50 of which is non-refundable. The fee includes food, accommodations, activities, supplies, and transportation to and from campus. Students will be billed for the program during the first billing cycle of the fall semester. If you have any additional questions, please contact the Office of New Student Programs at 717-245-1671 or by email at slce@dickinson.edu. A limited number of fee waivers are available.
Registration now open on EngageD! You will need your Dickinson login information to sign up.
2018 Pre-Orientation Adventure Programs

A Sustainable Adventure: Place Matters
Take part in this unique local overnight adventure that will explore why place matters, demonstrate what sustainability means at Dickinson, and participate in an overnight experience that allows for personal reflection and goal setting in Michaux State Forest. We will sleep indoors at the all-equipped Ironmaster's Mansion nestled in the Pine Grove Furnace State Park, swim in local lakes, hike to a rocky summit vista, kayak on Laurel Lake, and explore the rich history of the Pine Grove Iron Works. Spend time cooking local foods together in a group cooking lesson and sharing stories by a bonfire paired with local ice cream. Upon return, participants will work alongside Dickinson Sustainability staff and students to "Green Move In" for other first year students. No previous experiences required.

Behind the Events: MOB With US
Join MOB, the student programming board on campus, for two days of fun! Students will spend the first day getting to know each other by spending the day at two of MOB's favorite places to hold off-campus events, Carlisle Sports Emporium and Midway Bowling Alley, before heading into twon for a nice dinner to welcome the students to campus. On the second day, they will go on a scavenger hunt around campus, spend some time planning an event for the first weekend back on campus, and get a peek behind the scenes of our favorite welcome-back event.

Behind the Scenes: Theatre at Dickinson
In Behind the Scenes, students will have the opportunity to learn all about what it takes to make theater at Dickinson-by making it themselves! Participants will meet current Theatre & Dance students and faculty, explore Dickinson's performance spaces, work with lights, costumes, props, and scenery, and collaborate with each other to put on a show! The program is designed to accommodate students who are interested in performances as well as those who prefer the technical/backstage elements.
Black Student Union Pre-Orientation
The Black Student Union understands HOME, LEARNING, COMMUNITY, and PERSONAL HEALTH as vital to nation building. We invite incoming students to submerge themselves in our efforts! Our Pre-O "will encourage and promote networking opportunities among Black students and faculty: Jakirah W, Minster of Social Media and Outreach. Community is vital to the work of BSU; thus, the BSU Pre-O will introduce students to faculty of color who can serve as on-campus resources and support. Additionally, the Black Student Union Pre-Orientation is meant to create familiarity for First-Year students about the Black Student Union and its purpose: Kenyana S, Minster of Information. We understand the BSU to be an intellectual environment that feels like home. Therefore, the BSU Pre-O will ask intellectually rigors questions, in low-pressured, informal, and fun environments, that probe history, culture, society, and politics. We'll take trips to cultural museums, perform group-bonding activities, eat delicious food, and NATION BUILD.

Change the World Through Service
Have you heard the quote, "Be the change you wish to see in the world" and thought, "I want to be that person!"? During this Pre-Orientation Adventure, students will discover how service can be a means to creating socially responsible and sustainable change. Students will connect to the Carlisle community, strengthen their leadership skills, challenge themselves through new experiences, and begin exploring what it means to be socially responsible leaders. Participants will do all this through community service as they begin to "change the world" at Dickinson.
Creative Writing
In this Pre-Orientation we will be exploring different methods of creative writing through individual exercises, group activities, and workshop discussion. Some examples include an introduction to peer review and a diverse array of genres. You will get the opportunity to take a tour of downtown Carlisle, work with creative writing faculty, and become familiar with Dickinson's campus and communities. There will also be an option to perform readings of student pieces at the end of the program. We are excited to help the class of 2022 transition into life at Dickinson through an immersive creative writing experience!

Cuisine, Carlisle, & Climbing (C3)
Join the Office of Student Leadership & Campus Engagement for two days of food & fun! Students will spend the day building meaningful relationships through ropes course exercises and the night getting to know some of Carlisle's best restaurants. We will then engage in a cooking challenge that will have students explore the local community and cooperatively prepare meals in a college residence environment.

Dance at Dickinson
Join the dance groups of Dickinson for two days full of artistic expression and diverse dancing, hosted by the Theatre and Dance Department and the Dance Theatre Group. With the help of guest teachers we will explore a variety of dance forms, from contemporary ballet, to jazz, hip hop, and Bollywood dance. We will spend the night to have conversations with Dickinson students about their experience in college life, both academic and dance aspects. Finally, we will work to create a dance piece to perform at a showing in front of your classmates. All classes will be taught at an introductory level. No previous dance experience is necessary, all are welcome!

Exploring The Hive, Dickinson's Beekeeping Cooperative
Interested in learning more about bees, beekeeping, and value-added products like honey, candles, and lip balm? This pre-orientation program is a great opportunity for students to participate in and become part of The Hive, Dickinson's beekeeping cooperative. We will learn about native bees, our campus hives, the biology of bees, safety, equipment, and honey production. In addition, we will explore the sustainability-related aspects of beekeeping by visiting local apiaries and bee-related producers. Hands-on workshops in honey harvesting, sustainable cooking, and program planning will be included. Students should be interested in beekeeping but no experience is required, and all safety training will be provided.

Food for Thought
Join the College Farm for some farm-based fun through the Food for Thought pre-orientation program! Participants will spend their days immersed in life on the farm. We will assist with farm work from animal chores to vegetable harvest. We will also learn and create during hands-on workshops led by farm staff. Finally, we will cook meals using College Farm products and spend a night under the stars! If you enjoy spending time outside, engaging in physical work, meeting fellow students passionate about farming, and want to explore sustainable agriculture, we hope you will join us!

Kick Start Dickinson
At Dickinson, we believe in the power of new innovators and the importance of innovation. The Idea Fund, a student-run organization that empowers students to identify and solve problems in the Dickinson community, is here to help you become a future innovator on campus. We're looking for students that want to learn more about how to engage with the community around them by proposing projects that fill a need in that community. Through "Kickstart Dickinson," you and a group of other incoming first-years will think critically about the needs in our community and will find solutions that fill those needs by coming up with an idea, designing a project, and pitching it to a group of judges. You will also be exposed to a host of on-campus and off-campus innovators and innovation resources.

Music Unleashed
Do you play an instrument? Do you sing? Do you enjoy listening to music of all types? This musical adventure is open to all incoming students with an interest in music, regardless of performance experience or skill level. Participants will collaborate with each other and with Music Department faculty and students in various musical styles based on the interets and experience of the participants. The program will culminate in a performance of music and sound art that illustrates and celebrates the campus community.

Pawsitively Perfect: Pre-Orientation with the Dickinson College Dog House
Join the Dickinson College Dog House, a special-interest house and club on campus, in an introduction to raising and training service dogs! During this Pre-Orientation Adventure, you will become certified in clicker-training, visit the headquarters of Susquehanna Service Dogs, and take an outing with service dogs-in-training. Students will also build a community with fellow dog-lovers, explore the Dickinson campus and Carlisle restaurants, and spend some quality time with the Dog House dogs. No previous experience training dogs is necessary!

Red Devil Sports Network: On-Air
Team up with the Red Devil Sports Network (RDSN), Dickinson's student sports broadcasting and media production organization. You will produce innovative multimedia featuring Dickinson's fall sports programs. You will learn the basics of sports broadcasting, videography, photography, production, social media, and marketing. This immersive experience will connect you with Dickinson student-athletes and coaches by recording video of practices and creating video highlights, features, and graphics. RDSN On-Air is designed for students who are interested in joining RDSN and pursuing a career in the sports industry.

Social Justice at Dickinson: Revisiting Native American History
This Pre-O experience is designed for first-year students who are interested in and passionate about diversity and social justice. Through a series of interactive activities, ranging from visits to the former Carlisle Indian Industrial School, Dickinson's Trout Gallery, and the Dickinson Archives, and film viewings and discussion, the program will engage students with local history and national issues facing Native American communities. Participants will expand their understanding of social justice issues and practices and learn about campus and local resources relevant to social justice.
The Dickinsonian
The Dickinsonian Pre-Orientation program invites students to participate in a two-day journalism frenzy! Students will be introduced to the journalism world at Dickinson College and get to know each other to kick off the program. We'll talk about good journalistic practicies, brainstorm story ideas, learn about the types of resources a journalist at Dickinson uses, and visit various locations around campus to hold interviews and investigate our ideas. On the second day, students will learn how to write their articles and how to layout and print a newspaper, culminating in a very special Pre-Orientation edition of The Dickinsonian. The program will end with a dinner at The Pizza Grille, Dickinsonians editors' favorite place for a staff dinner.
WILD (Wilderness Introduction to Life at Dickinson)
WILD programs are all designed with common elements and experiences. All WILD programs are created to introduce first-year students to the many different outdoor experiences that exist within the region.

WILD - Discover Rock Climbing in Pennsylvania
This program will introduce students to the basics of rock climbing right in our own backyard here in PA. Students will be going to Shaffer's Rock climbing crag (rock face) and staying in the Potomac Appalachian Trail Club's Hermitage Wilderness Cabin only 2 minutes from the crag! Students will spend two days learning all the basics of top roping and bouldering as well as build strong bonds with other first years in an outdoor wilderness setting. No rock climbing experience required.

WILD - Rafting and Hiking
This Pre-Orientation Adventure trip will give first- year students the opportunity to experience Ohiopyle State Park in Western Pennsylvania, while building lasting friendships and preparing for the transition to college life. Students will spend one day whitewater rafting on the Lower Youghiogheny River which consists of class III and IV rapids, a fun challenge for both beginner and moderate level rafters. The next day will be spent hiking through scenic Ohiopyle State Park. Throughout the duration of the trip, students will learn basic camping, outdoor, and leadership skills. This trip will focus on getting to know one another, learning more about student life at Dickinson from the perspective of the student leaders before orientation, and having a blast doing so!

WILD - Canoeing Adventure on the Susquehanna River Trail
On this Pre-Orientation Adventure, students will experience the outdoors while building bonds with each other and learning the skills needed to be an outdoor enthusiast. This trip will take place on the Susquehanna River on the section north of Harrisburg, Pennsylvania's capital. On this trip, students will canoe 22 miles down the river towards Harrisburg, camp on islands, and end in Harrisburg where students will have time to eat lunch and explore the state's capital. Along with the experience, students will also learn basic camping skills, outdoor skills, and whatever they want to know about Dickinson, all while creating friendships with fellow first years. No experience necessary, but students should be strong swimmers in the river. We will be offering 2 different trips for this program.

WILD - Backpacking in Pennsylvania and Virginia Mountains
This Pre-Orientation Adventure will give first-year students the opportunity to experience incredible backpacking opportunities that exist just a short drive from campus, while building lasting friendships and preparing for the transition to college life. Students will spend three nights and four days backpacking and hiking through areas offering beautiful rocky vistas, forested valleys and pristine creeks to cool off. Learn skills such as backcountry cooking, map reading and other outdoor skills. This trip will focus on getting to know one another, learning more about student life at Dickinson from the perspective of the student leaders before orientation, and having a blast doing so! Three different trips will be offered.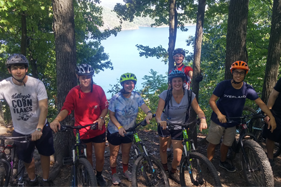 WILD - Mountain Biking at Raystown Lake
Experience world-class mountain biking on the flowy, beginner-friendly trails of Allegrippis system on the shores of Raystown Lake. Spend 2 days biking, with downtime on the shores of the lake. Each night will be spent camping in the park. Throughout the duration of the trip, students will learn basic camping, outdoor, and leadership skills. This trip will also focus on getting to know one another, learning more about student life at Dickinson from the perspective of the student leaders, and having fun! No mountain bike experience required, but you must be able to confidently ride a bike.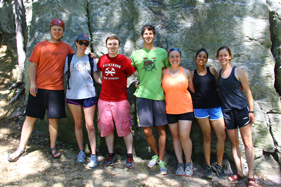 WILD - Caving and Climbing
During this trip, students will enjoy climbing and caving in northern Virgina. They will be introduced to the basic skills of the sport and will be able to pursue them further after returning to campus. Students will camp out each night in beautiful Shenandoah State Park where there will be opportunities to explore. Throughout this outdoor experience, students will learn basic outdoor skills and whatever they want to know about Dickinson, all while building bonds with other first years and student mentors. No experience needed.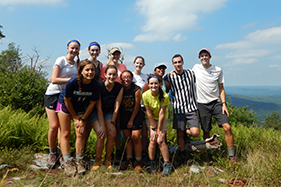 WILD - Kayaking
Get to know the Ohiopyle river by getting up-close and personal with an intro to whitewater kayaking course. This trip will teach students the basics of moving-water kayaking while they get to explore one of Pennslyvania's most famous parks. Throughout this outdoor experience, students will learn basic outdoor skills as well as get the chance to connect with upperclass students and other first-years before school begins. No experience kayaking is necessary, but you must be able to swim.
WILD – HORSEBACK RIDING AND HIKING
On this trip, students will spend two days in Ricketts Glen State park, just north of Carlisle. They will camp at the park and spend time riding with professional guides around wilderness areas. Students will also go on day hikes to see waterfalls, lakes, and vistas, all while bonding with a small group of peers and learning basic outdoors skills. No experience is necessary, and all are encouraged to join.