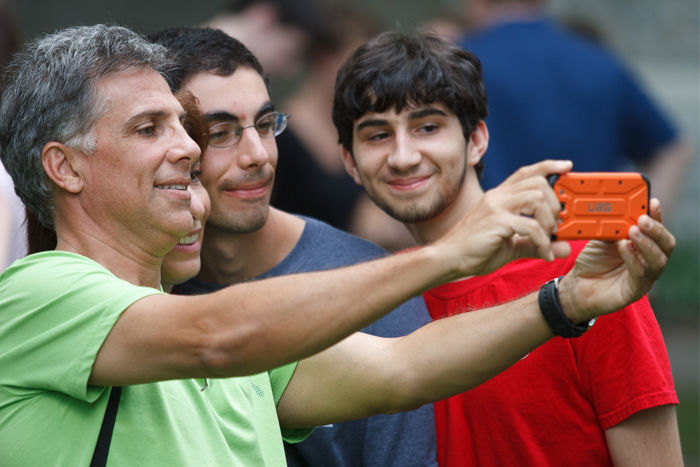 Welcome to the Dickinson family! We hope that you will use the parent's page to learn more about your student's college experience. During the summer, your student will be receiving a number of important mail and email communications from the college that require timely responses. We hope that the information provided here will make the process a bit easier.
As always, please feel free to email us at orientation@dickinson.edu or call us directly in the Orientation Office at 717-245-1555.
During the Summer
We encourage you to share in your student's discovery of Dickinson life as they work through the many dates and deadlines during the summer. We recognize that going to college is a new chapter in your life as well as your student's. We appreciate the importance of these relationships and hope to foster them in the college environment. Our goal is to be your partner in supporting your student as he/she establishes connections with the educational community. We will be happy to work with you if you have any questions that may help your transition. If questions do arise concerning secure information such as a Gateway user name, password or course registration, we require that the student make contact with campus offices to verify their identity.
To help your student stay on track we encourage you to review the Orientation site thoroughly.
Questions About Your Bill?
If you have any questions or concerns about your billing statement, please direct them to Student Accounts at 717-245-1953 or stuaccts@dickinson.edu. Visit the Student Accounts Web site for additional information and frequently asked questions.
Payment Plan and Parent Financing
Many parents find the monthly payment plan to be helpful in managing college costs. The View Payment Options link will provide ideas for combining the payment plan with long term financing through the Federal Direct PLUS Loan Program. If you have questions related to applications for loans or financial aid, please contact the Office of Financial Aid at 717-245-1308 or finaid@dickinson.edu.
Family Orientation
Parents and guests are an important part of Orientation, so we provide a separate program with sessions and activities designed especially for you on the arrival day. While your student is busy learning about Dickinson, we will talk with you about your student's education, transition issues, leadership opportunities, support services and campus life.
Move-in for Pre-Orientation students will take place on Sunday, August 20, from 8-11 a.m. A parent orientation will be held in the afternoon.
Move-in for all other incoming students will take place on Wednesday, August 23, from 8- 11 a.m. A parent orientation will be held in the afternoon.
Consider the following information as you plan your travels to campus:
Family Weekend
Mark your calendar for your family to come back to campus to celebrate Family Weekend on October 6 - 8, 2017. More information about specific events will become available in July.