Residential Learning Community Program
Several First-Year Seminars are part of the Residential Learning Community Program. Learning Communities are two or more seminars linked around a theme. The students in these multiple seminars live together in a dedicated residential hall, providing opportunities to take learning outside the classroom. Learning Communities allow first-year students to participate in a community with other students who want a variety of opportunities to explore this academic theme with faculty and other students.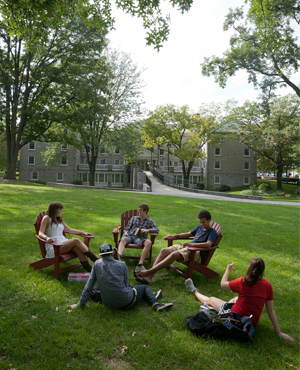 Learning Communities:
create opportunities for intellectual and social interaction with peers and faculty around shared interests
build a supportive social network among first-year students transitioning into college life
promote strong student-faculty connections
help students realize the broadest range of educational opportunities that Dickinson's campus offers
emphasize interdisciplinary perspectives
connect classroom discussion to applications in the broader world
Each Learning Community is assigned an upper-level student coordinator (LCC) who works with students and faculty in support of Learning Community goals. Working with their LCC and faculty members, participants in Learning Communities will participate in activities that help meet the goals of their particular community.
Joining a Learning Community
In the full list of seminar descriptions, they are identified with an asterisk (*). If you choose and are selected for one of those seminars you will be automatically placed in the Learning Community residence hall.
Selecting a Roommate in a Learning Community
All first-year students are housed together. All first-year students in Learning Communities will have a roommate who is in the same Learning Community. This means if a student requests a roommate and either the student or the roommate—but not both—are in a Learning Community, the two will not be able to room together. Students will learn about their First-Year Seminar assignment on June 13 through the Gateway.