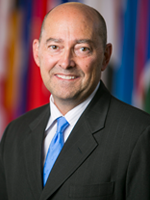 James Stavridis
James Stavridis
Stavridis is a retired four-star admiral and was the longest-serving combatant commander in recent U.S. history. After leading the U.S. Southern Command in Miami, with responsibility for all military operations in Latin America, Stavridis served as supreme allied commander for NATO with responsibility for Afghanistan, Libya, Syria and the Balkans as well as cybersecurity and piracy off the coast of Africa. He is a recipient of the Navy League John Paul Jones Award for Inspirational Leadership and holds more than 50 medals, including 28 from foreign nations. After 37 years of service, Stavridis retired from the Navy in 2013 and became the 12th dean of The Fletcher School of Law and Diplomacy at Tufts University, a position he holds currently. He is married to Laura Hall Stavridis '81, and the father of two daughters.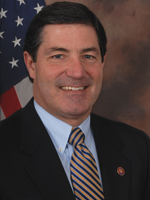 James Gerlach '77
James Gerlach '77
Gerlach serves as president and chief executive officer of the Business-Industry Political Action Committee, the oldest bipartisan business political action committee in the nation. From 2003 to 2015, he represented Pennsylvania's sixth district, serving on the House Ways and Means Committee and its subcommittees on health and select revenue, as well as the House Transportation and Infrastructure Committee, the Financial Services Committee and the Small Business Committee. Prior to his time in Congress, Gerlach served four years in the Pennsylvania House of Representatives and eight years in the Pennsylvania State Senate.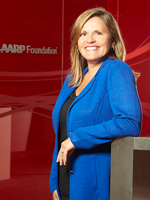 Lisa Marsh Ryerson
Lisa Marsh Ryerson
As president of AARP Foundation, AARP's affiliated charity, Ryerson sets the foundation's strategic direction and leads its social impact initiatives. Under her leadership, the foundation has embarked on relationships with high-profile organizations to create and advance effective solutions that help vulnerable older adults meet their basic needs. Ryerson joined AARP Foundation after 18 years as the president and CEO of Wells College in Aurora, N.Y. She is the recipient of numerous honors and awards for leadership and service.
Brett jenks
Brett Jenks
Jenks is president and CEO of Rare, a nonprofit global conservation organization that seeks to equip people in the world's most biologically diverse countries with the tools and motivation to sustainably manage their natural resources. Prior to Rare, Jenks was a journalist and filmmaker, and he served as the Costa Rica field coordinator for WorldTeach, a nonprofit based at the Center for International Development at Harvard University. He is a Catto Fellow, Braddock Scholar and McNulty Prize laureate with the Aspen Institute, a member of the Closed Loop Fund's investment committee and an advisor to the Grantham Trust.