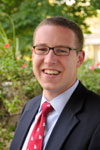 Hello and welcome to Dickinson College. My name is Greg Moyer. I am the director of admissions recruitment and a proud alumnus of Dickinson College. As a Dickinson student, I studied European history and had the opportunity to live abroad for a year at the Dickinson program in Bologna, Italy. During my abroad experience, I had the opportunity to intern at an Italian terrorism-research center. I wrote my senior thesis on the Italian Resistance in World War II. I also worked with a group of my fellow Dickinsonians to bring back the D-Book, a small red book highlighting Dickinson's proud revolutionary foundation, its noble traditions and its bright future.
My Dickinson experience was all about connecting my passions, exploring new ideas and stretching my understanding of the world around me. You should look forward to Dickinson expanding your comfort zone, prompting you to see your education, your passions in a global way, emboldening you to try new ideas, to engage the world, and to be a thoughtful and responsible citizen and leader. As you move through your college search, do so with enthusiasm knowing that there are institutions like Dickinson College out there willing to have an opinion, to embrace its founding message as a revolutionary college, and to educate students to connect their passions and become engaged citizens and leaders.
I would be more than happy to answer any questions that you might have about our "distinctively Dickinson" approach to a liberal-arts education. Your college search should be all about finding a college that really "fits" with you; please do not hesitate to contact me at moyergr@dickinson.edu if you like to know more about what it means to be a Dickinsonian.
Gregory Moyer '06
Director of Admissions Recruitment