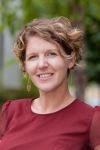 Greetings from Dickinson! My name is Molly Boegel, and I am the Director of Admissions Programs and Services here at Dickinson. Before coming to Dickinson, I worked in the same capacity at another small, academically rigorous, liberal-arts school. With this background,
I am familiar not only with Dickinson, but with the landscape of admissions in general. I am thrilled to be at Dickinson, a school where students are passionate, intellectually curious and engaged in the world.
As a native of the Carlisle area, I have always been aware of the ways in which Dickinsonians are working to improve their community—both locally and globally. Now, as a member of this staff, I am able to see that this global sensibility is the first of many qualities that makes this school so unique. Does the prospect of a global education interest you? Do you see the connections between your interests—as vast and varied as they might be? Are you looking for a college that will offer you an education that is both progressive and useful? If so, you are in the right place.
As your regional counselor, it is my goal to help you learn more about Dickinson and to get to know you as an individual. What gets you motivated? What are you curious about? What do you love to do? I invite answers to these questions and more and, likewise, I would be happy to answer any of your questions about Dickinson. You can reach me at boegelm@dickinson.edu. I look forward to hearing from you and to working with you more as you consider applying to Dickinson .
All the best,
Molly Boegel
Director of Admissions Programs and Services