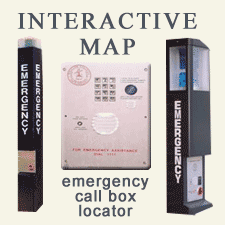 Campus telephones are located outside the main entrances of most residence halls. If you need emergency assistance, pick up any campus telephone and dial 1111. There are also emergency "blue light phones" located strategically throughout campus. These "blue light phones" connect directly to the DPS communication center. The phones are activated by the touch of a button. When the phones are activated, a strobe light on the top will flash. This marks the location for the responding officer and serves as a deterrent to further criminal activity. Telephones in the communication center will display the location of the call to ensure officers respond quickly to the correct location.
When you activate the emergency phone please provide the following information:
Your location
The nature of the emergency
Be prepared to answer the communications officer's questions and respond to any instructions that may be given.
It is recommended that you familiarize yourself with the Blue Light locations. A map showing the locations of blue light phones on campus is available
online
.