Adams Hall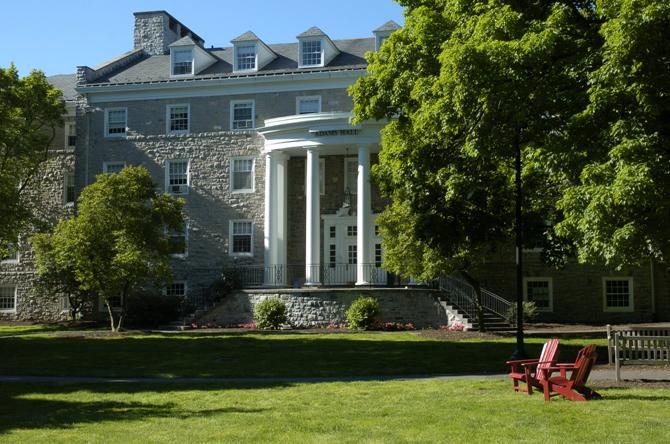 Adams Hall was dedicated as a women's dormitory on October 5, 1963. Authorized in December 1960, the hall was designed by architect Elmer H. Adams. The building is named in recognition of Dr. and Mrs. Rolland Adams and their generous gift that made construction possible. Originally home to 165 female students, Adams Hall also once contained the College Guest Suite, which was furnished and decorated through the support of the Mary Dickinson Club. The building began serving as a residence hall for both men and women in 1974, and has housed both upperclassmen and freshman students over the years.

Adams Hall is home to about 170 students in a setting of traditional double rooms. The building currently houses primarily first-year students, and features a large, newly-renovated basement lounge with a kitchen, as well as a large laundry room. The building is located on one corner of the Rush campus, across High Street on Morgan Field.
Interiors & Furnishings
Walls: Cinderblock or drywall
Floors: Carpeted hallways
Furniture: Each student will have a bunkable bed that can be adjusted (or flipped) for height, a dresser, a desk and desk chair, and a bookcase. Closets are built in and not moveable. Soft seating is available in building lounges.
A/C: Window Units
Kitchen Facilities: Common kitchen, including sink, refrigerator/freezer, & stove/oven.
Cleaning: Bathrooms cleaned daily: Showers cleaned weekly.