Witness The Power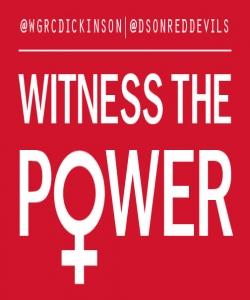 Are you a fan of Dickinson's women student-athletes? Do you attend women's athletic events on campus? YOU can be a member of the Witness The Power Squad and be eligible for a prize at the end of the semester.
How does it work?
Register here to become a member of the group.
Attend women's athletic events on campus, wearing your WTP button or hat (if you don't have one, swing by Landis and talk to Kim Wampler).
Take a selfie of yourself wearing WTP swag at the event, and post the picture on your Facebook or Twitter account, using the #WitnessThePower hashtag and ALSO tagging the WGRC on Facebook or Twitter.
Anyone who has attended two or more events each semester and met the above criteria will be entered into a drawing for a gift card to a local restaurant.
At the end of each semester, we'll announce the winner and you can pick up your prize at Landis.