Student Engagement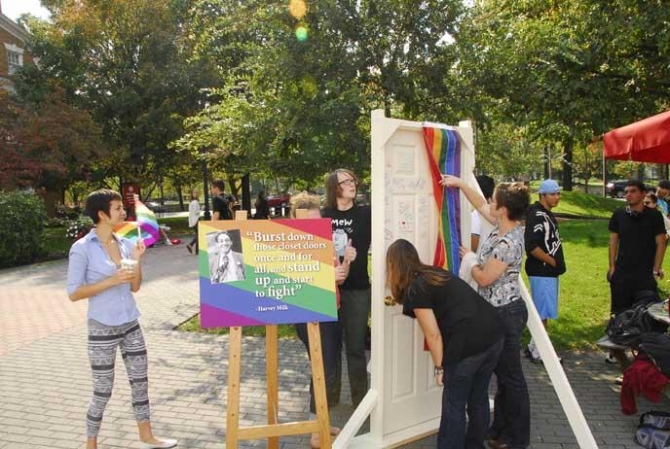 There are a myriad of ways undergraduate students are involved in LGBTQA life at Dickinson. Our number one goal is assisting you as you journey through your undergraduate tenure at Dickinson. With the Office of LGBTQ Services, you can access support, find connections, expand your knowledge and feel at home at Dickinson.
Our programs, student organizations, events, leadership opportunities and weekly discussion groups are all designed to support your academic and social success.
Meet with the Director one-on-one for direct support and help navigating campus resources.
Come to a discussion group to talk, listen and learn.
Explore the ways our campus serves the LGBTQA community and find supportive Allies everywhere.
Join our student listserv to stay current with upcoming events - Request to join here.
Join a student organization or come to one of our events.
Student Organizations:
Spectrum: Dickinson's Queer/Straight Student Alliance
(Contact Spectrum)
This group is devoted to political activism, raising awareness and public education on gay, lesbian, bisexual, and transgender issues.
Feminist Collective
(
Contact Feminist Collective
)
Browse our
online resources
on everything from coming out to studying abroad...
We invite all of our students to contact us at any time. The Office of LGBTQ Services looks forward to meeting you!