Involvement
Faculty, Administrators, and Staff are involved with the LGBTQA community in a variety of ways. Many faculty, staff, and administrators also collaborate with the LGBTQ Office to organize speakers, panels, and other events across campus departments.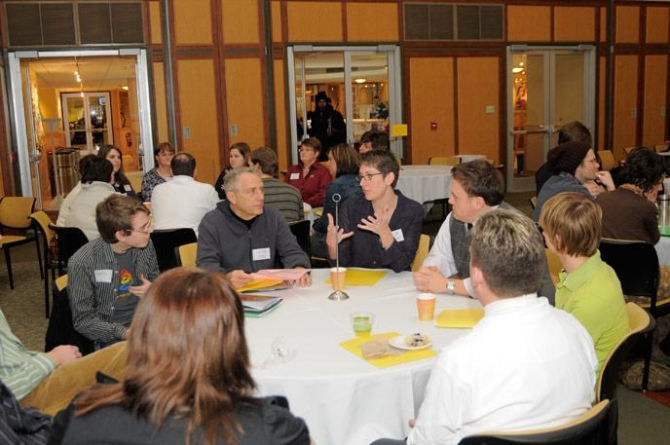 Same-Sex Partner Benefits at Dickinson

If you are a new or prospective employee of the College, please click here to learn about our benefits offered by the College inclusive of same-sex couples. As an employee, you may opt for individual, two-party or family coverage for your spouse or eligible same sex domestic partner and dependent unmarried children less than age 26.
The LGBTQ Faculty, Administrators, and Staff (FAS) Group

The LGBTQ Faculty, Administrators, and Staff (FAS) Group is an informal group of faculty, staff and administrators interested in advancing equality for lesbian, gay, bisexual, transgender and queer (LGBTQ) communities.

In addition to hosting a monthly social gathering, the group sponsors cultural events on and off campus, and maintains an e-mail listserv which keeps members updated on current events. Assistant Professor of Italian James McMenamin (mcmenamj@dickinson.edu) serves as the group's coordinator.

Get Connected: Request to be added to the FAS email distribution list.
Queer Beers for Dickinson College Faculty, Staff and Administrators

Fall 2014 Dates:
August 28, 2014
September 18, 2014
October 23, 2014
November 20, 2014
December 18, 2014
Spring 2015 Dates:
January 29, 2015
February 19, 2015
March 19, 2015
April 23, 2015
May 14th, 2015 at 4:00 PM with Graduating Students
When:
5:00-7:00 PM

Where:
Alibis Eatery and Spirits – 10 North Pitt Street - Downtown Carlisle

What:
Come celebrate at our monthly Happy Hour MIXERS for gay, lesbian, bisexual, transgender and queer faculty, administrators and staff. Allies to the community are also welcome! Join us at Alibis for colorful conversation and a fun time. Oh, and appetizers are on us! We hope to see you there!

We welcome faculty and staff that would like to get further involved with our LGBTQ and allies community.
Opportunities abound.