Queer Peers: the LGBTQ Peer Mentoring Program
About Our Program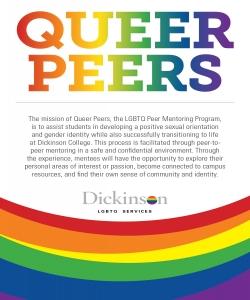 The mission of Queer Peers, the LGBTQ Peer Mentoring Program, is to assist students in developing a positive sexual orientation and gender identity while also successfully transitioning to life at Dickinson College. This process is facilitated through peer-to-peer mentoring in a safe and confidential environment. Through the experience, mentees will have the opportunity to explore their personal areas of interest or passion, become connected to campus resources, and find their own sense of community and identity. In addition, there is a informal social component of the event. Both mentors and mentees will come together to enjoy time together over meals, movies, board games, local excursions, and casual conversations.
Mentors are Dickinson College students who identify as LGBTQ and are excited to connect and establish rapport with their fellow students. They will provide support concerning issues with sexual orientation and/or gender identity as well as ways to navigate Dickinson and the world as an LGBTQ identified individual. As a mentor in this program, you will receive training and materials helpful to serving as a mentor, provide understanding and support to your mentee, and have continued support from the Office of LGBTQ Services. Mentors provide positive role modeling, on-going support, understanding, empowerment, acceptance, information, networking, resources, connection, and guidance to the mentees enrolled in the program.
Mentees are Dickinson College students who are looking for support from or connection to the LGBTQ student community. They may have questions about sexual orientation or gender identity. As a mentee in this program, we hope you will gain information and connections to help explore a positive gay, lesbian, bisexual, or transgender identity. The program intends to assist mentees with connecting to the greater LGBT community, break isolation, combat internalized homophobia, and provide a safe environment for personal growth.
All current students at Dickinson College are eligible.
If you are current student and would like to be matched with a current LGBTQ identified student, please fill out our mentee form here.
If you would like to volunteer to be trained as a LGBTQ identified student mentor, please fill out our mentor form here.