Homecoming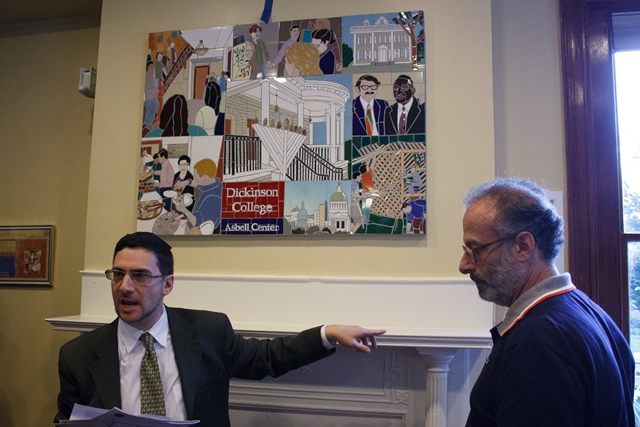 Homecoming & Family Weekend were a huge success! In honor of the tenth anniversary of the founding of the Milton B. Asbell Center for Jewish Life, we commissioned a mosaic to commemorate the exciting history of Jewish life at Dickinson. This vibrant, colorful work highlights holiday celebrations, Israeli dancing, the Phi Epsilon Pi house and the likeness of Judaic Studies professor Ned Rosenbaum and Phi Ep house master Paul "Pappy" Hodge. The artist, Jonathan Mandell (father of Ian Mandell '11), is a leading creator of fine are tile work; his mosaics are displayed in synagogues, universities, sports stadiums, museums, and other venues. His extensive portfolio cna be viewed at http://www.jonathanmandell.com/.
The mosaic was unveiled during a gourmet Shabbat dinner on Friday, September 27, 2013 on Homecoming & Family Weekend. Services were led by Rabbi Henry Shreibman '74.
Homecoming & Family Weekend also included the inauguration of Nancy A. Roseman, the 28th President of Dickinson College and the first Jewish president in the college's history.