Achim
Achim, or 'Brothers' in Hebrew, was founded in January 2010 by a group of Jewish men at Dickinson College. We aim to foster a brotherhood among inclined male students at Dickinson College of Jewish faith; to serve as a support mechanism for the same; to add to the vivacity and strength of Jewish Life on campus, especially for members of our organization; to serve, in name and in action, as honourable representatives of the Jewish people; and to encourage vigorous participation in social and philanthropic activities in both the Dickinson and Carlisle communities. Our members come from around the nation and around the world, including students from Switzerland, Uruguay, Israel and more!

If you would like to get in contact with us, please send us an email at dickinsonachim@gmail.com!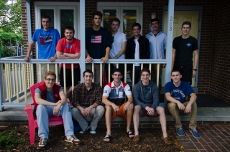 Achim Members - Fall 2014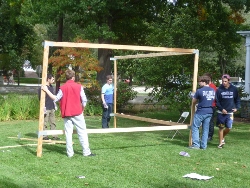 Achim members building the Sukkah at the Asbell Center for Jewish Life.
I am currently a senior at Dickinson College, majoring in economics. I have been a part of Jewish life since my first year at the college and, in addition to being treasurer of Hillel this year, I am also the president of Achim, the Jewish men's group on campus. I have strived in the past to create a more integrated body of religious life by holding interfaith events with the other religious groups on campus and I hope to continue with this work into the upcoming academic year. I am excited to work with the Hillel board this year and bring my past three years of experience to the table in order to help sustain the Jewish life we have come to enjoy so much.
Executive Board:
President: Kyle Liss '15
Vice President: Jacob Grant '17
Exchequer: Phil Safran
Scribe: Greg Lawrence '15
Brother at Large: Lev Gerstle '15
Matt Brown
Uri Tammuz
Sam Moller
Jack Marcus
Matt Berman
Jacob Grant
Ben Simmonds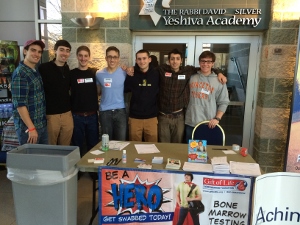 Achim's Gift of Life Bone Marrow Registry Drive-JCC Harrisburg
















Achim Events
Fall 2014
Achim Events
Spring 2013
We will be leading services throughout the semester at the Asbell Center!
We will be holding monthly open dinners for new members. Dates will be announced!
We will be having monthly social events for members, such as Laser Tag, Bowling, and much more!

Fall 2012
We held a philanthropy event with Delta Sigma Phi and raised money for Save a Child's Heart Foundation.
We led Shabbat Services at the Asbell Center on 26 October.
We co-hosted Speed Dating with Hillel on 19 September.
We had another great turn out for the Sukkah 'building' at the Asbell Center!

Spring 2012
We have raised money and support for Dickinson College's Relay for Life, held Friday 30 March in the Kline Center.
We held a post-Relay barbeque on the lawn of the Asbell Center on Sunday 01 April. See pictures below!
We hosted a Shabbat service on 13 April with the Chabad of Harrisburg.
We are currently planning Pesach programming with the Asbell Center

Fall 2011
We had a great turn out for the 'building' of the Sukkah at the Asbell Center, see pictures below!
We held a barbeque fundraiser on Morgan Field to raise funds for the Save a Child's Heart foundation!
We are, without end, selling bracelets for the Save a Child's Heart Foundation. If you wish to purchase one ($2 per bracelet, and all profits go to the foundation), speak to one of our members.

Fall 2010
We cosponsored a Hanukkah party with Hillel, and it was a resounding success! Rabbi Shmuel Pewzner of the Chabad of Harrisburg brought us a six-foot-tall electric menorah, which we lit in a special ceremony. Then we joined a diverse group of students

Spring 2010
We held a festive Purim meal, led by Rabbi Mendy Pewzner of Harrisburg PA. Rabbi Pewzner read the traditional scroll, the Megillah, detailing the story of the holiday.