Part of Religious Life deals with exploring meaning and purpose through discussion, meditation, and engagement.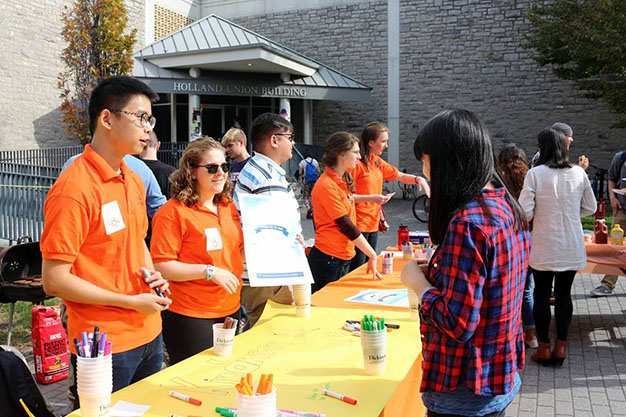 Students gather on Britton Plaza for the Beliefs and Big Questions BBQ.
Discussion
Beliefs and Big Questions: Casual conversations about diverse beliefs and faith traditions in small groups over dinner or in large groups in open campus spaces (HUB, Britton Plaza).
What Matters Most: Dinners focused around small group discussions that give students the opportunity to engage with faculty and administrators in conversations centered on what matters most to them.
Discussions: These discussions could be on timely or thought-provoking topics (e.g., Religion and Homosexuality).
Labyrinth: Used for over 4,000 years, the Labyrinth walk is a self-alignment tool aimed to clear one's mind and give insight.
Meditation
Meditation Workshops: Religious Life brings in meditation specialists to offer workshops.
Meditation Hikes: Observing the spiritual in nature through purposeful walking and trying to connect to what is spiritual in your environment.
Engagement
This I Believe: This I Believe is a bi-monthly column printed in the Dickinsonian, in which students have the opportunity to take their beliefs and ground them in the events of their life. Based off of an international organization of essays and radio spots started in 1950 on NPR, students write about something meaningful to them, inviting everyone from the campus community to learn and engage in the conversation.
Religious Life offers students a safe environment for students to share their ideas.