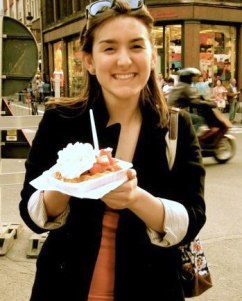 Emily Rogers '12 – Dickinson/UEA Graduate Linkage "I owe so much of who I am, the relationships I've developed, and the experiences I've had to Dickinson, UEA, and to the linkage between them."
Admission to a master's programs at the University of East Anglia will be guaranteed to any Dickinson College senior or graduate who meets the following criteria:
1. An overall Grade Point Average of 3.00 or higher

2. Submission of a statement of intent, two letters of
reference, resume, transcript,and any degree-specific admissions requirements (e.g. a sample of work for Arts & Humanities applicants)

3. Approval of application by Dickinson faculty committee
Interested students should submit their application materials to Laura Kilko by November 1st. Application materials will be reviewed by a Dickinson faculty committee. Candidates may be asked to revise some or all of their materials. If the application is approved, candidates will be informed to proceed with UEA's online application process and an official letter of recommendation from Dickinson College will be forwarded to UEA by mid-December.

Visit UEA's web site to learn about the master's programs offered.