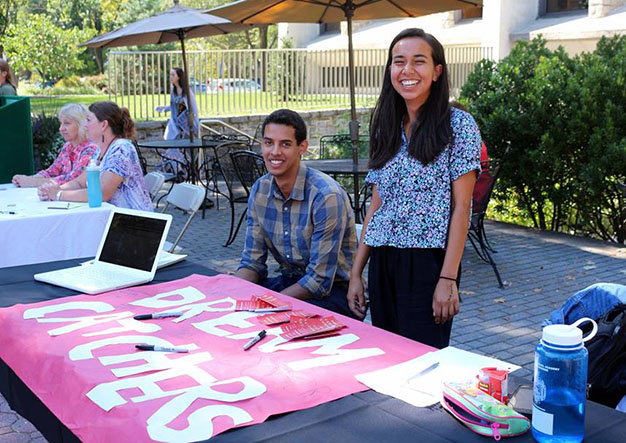 Dream Catchers, one of 12 CommServ programs, recruits new volunteers at the annual Community Service Fair.
CommServ is a network of student groups that reach into the local community to meet a variety of needs on a regular basis. These groups build and maintain strong community partnerships through sustained interactions over several years. The coordinators of each student group meet weekly for reflection, training, and leadership development as they seek to understand the complexity of community needs and services. The volunteers meet regularly with their coordinators and weekly serve through their community partners. Two student staff members help coordinate 24 student leaders that run the 12 weekly CommServ groups.
Learn more about the weekly CommServ Groups.
Student Leaders 2016-2017: Julianna Barr '17 and Katy Dechert '19
Staff Coordinator: Jaime Phillips
CommServ Volunteers
Volunteers are the backbone of the community service that occurs in our community. In 2015-16, over 150 students participated in a CommServ weekly community service group! To participate in CommServ, all volunteers must:
Complete a volunteer application
Complete an online education process about safety of volunteering with children and vulnerable adults
Complete the required volunteer background clearances (Volunteer Clearance Instructions)
Participate in training for the specific group
Commit to volunteer for at least one semester at least once a week within the program
CommServ Coordinators
Each CommServ group has two student coordinators that organize volunteers, meet with the community partner and participate in leadership training. Coordinators meet on Monday nights from 5-6 pm during each academic semester. As a Coordinator, one will:
Increase individual understanding of community needs and issues through education and dialogue
Engage in self-reflection, generating an understanding of one's self, one's position and privilege, and how that affect one's responsibility and work within the community
Increase professional skills including communication, organization, management and program development
Reflect on local community partners by exploring the connection between academic work and possible vocations. One way this is accomplished is through a Thursday Thought written weekly by a coordinator.