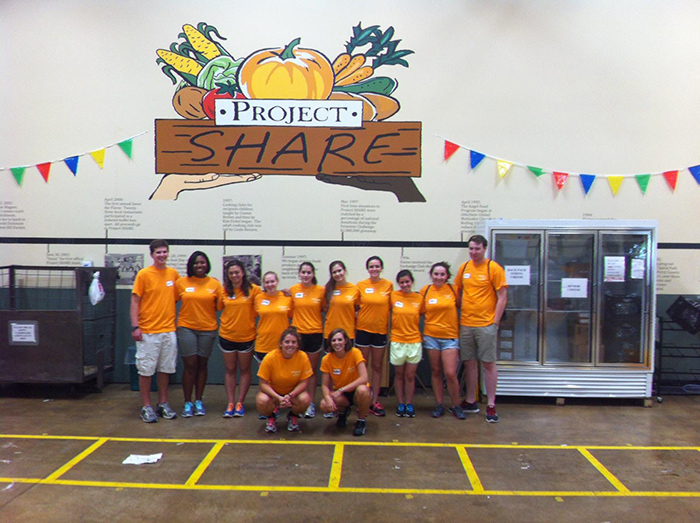 The FYEX Pre-Orientation Group serving at one of our community partners, Project Share.
Our previous Neighbors to Neighbors program launched in 2012 has developed into a new program for first-year students, now known as the First-Year Experience (FYEX). The FYEX Leaders aim to develop regular programs that engage first-year students in service within the local Carlisle community. All first-year students will have the opportunity to play an integral role in instilling service as a part of their college experience. These programs are led by three upper-class student staff from the Office of Community Service and Religious Life. These leaders work with students and local community partners such as Project Share, the Salvation Army, Thornwald Home, Safe Harbour, and the Carlisle Arts and Learning center.
Email: FYX@dickinson.edu
FYEX Leaders 2015-2016: Lin Sabones '18, Egmidio Medina '18, and Frieda Adu-Brempong '16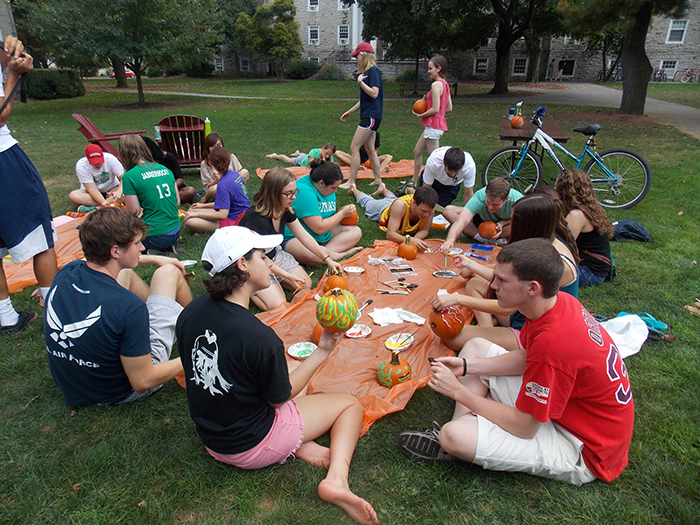 Spring 2015 Service Schedule
On Mondays from 4-6PM, we will be serving at the Salvation Army soup kitchen.
Community Cleanup Day
Volunteering at the College Farm
Project SHARE
Thornwald Home
And many more! Details to come soon.

Past FYEX Service Projects
For the 2012-13 academic year, one of our first-year groups partnered with Downtown Neighborhood Connection to focus on sustainability projects. Some of the projects included weeding a local community garden, painting recycling bins to stand out in parks, and participating in a community clean up. Their most successful and popular project, however, involved staffing an Easter Egg Hunt in the spring, and it earned press coverage in the Sentinel.
In Fall 2013, another group worked with Bosler Library running a homework helpers program. Later in the semester, volunteers also assisted elementary school children create canvases for the twelve days of Christmas that hung in the windows of the library after Thanksgiving. Volunteers from Adams Hall served meals weekly at the Salvation Army and Drayer volunteers entertained the residents of Thornwald nursing home every Sunday.
First-year experience groups also hosted three all neighborhood events which brought together residents from each of the first-year residence halls. Early in the fall semester, students painted pumpkins which were then donated to residents of Thornwald nursing home to brighten their rooms. On Halloween, students dressed up and handed out candy to Carlisle residents in the library and on high street. Volunteers also hosted a family night at Stuart House, a transitional home for women and children. Some students made foot scrub with the moms while others played games like twister and kerplunk with the children.
During the 2013-14 academic year, Adams Hall was partnered with the Salvation Army; Drayer partnered with Thornwald, the local nursing home; and the Quads partnered with Bosler Children's Library.
Aside from the specific weekly projects and the all-neighborhood events, at the heart of the First-Year Experience program is upper-class students leading first year students in service while strengthening the connection with the Carlisle community for everyone involved.
Want to find out more? Check out this video showcasing our First-Year Experience program!