We realize that everyone cannot always give time weekly to help out those in the local community. However, a day here, an hour there is possible. Therefore we have developed community service projects: shorter term opportunities to explore and meet the most urgent of community needs. Students, faculty, and staff (plus their families) are invited to participate in these projects with our local community partners.
These opportunities take a few hours and help a community partner serve their clientele. These are meeting the most urgent community needs and help participants potentially see the community in a new light.
With constantly changing and newly emerging needs of our community partners, information is regularly shared through a list serve group. If you would like join this list, please email dayofservice@dickinson.edu.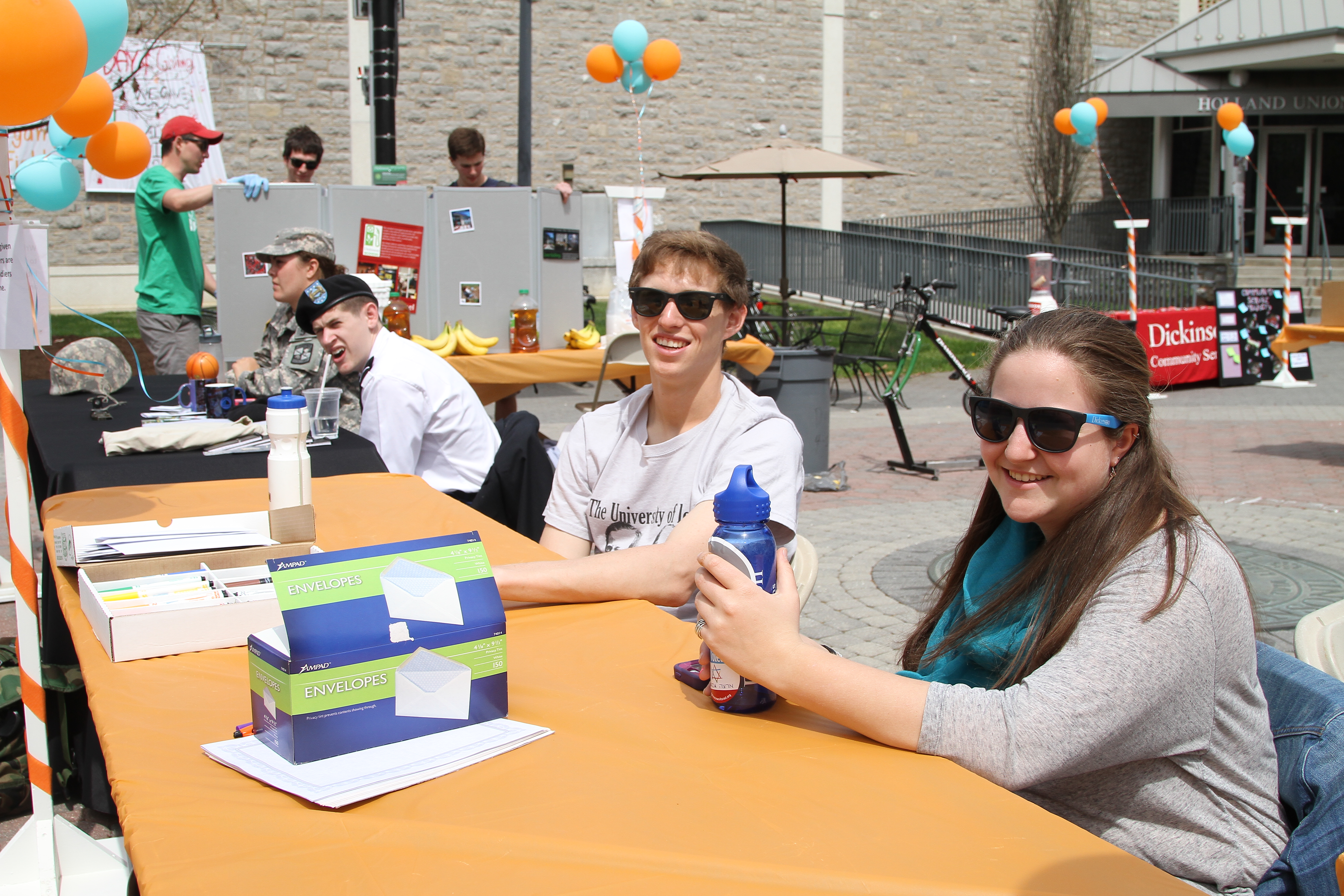 Spring 2014
One of the most popular events this spring was Wii Bowling at Claremont Nursing Home in Carlisle. About 25 students from all over campus came together to partner up with residents and ensure a fabulous day! The Claremont residents enjoyed the physical activity as well as having a chance to talk to students and tell their many stories to new faces.
Another event that was well-attended was our annual Community Service Fair. Participants came to Britton Plaza to do a wide range of exciting activities. Among these activities we had Henna for Humanity whose proceeds went to women in developing countries, and a smoothie bike whose proceeds went to a nutritional awareness program for men and women in Uganda. Other free events included writing letters to soldiers, writing notecards to spread self-awareness, making friendship bracelets to go to children who have lost a primary caregiver, making dart art to be donated as an art installation to a local nonprofit, making tie pillows to be donated to women in infusion clinics, and making fleece puppy tugs for service dogs. It was a great cap to a successful year!
Previous Days of Service
United Way Day of Caring - faculty, staff and students dedicated their morning to give a hand to the Carlisle Theater by putting together props and getting the stage ready for the big Rocky Horror Picture Show.
Furry Friends Network - Students assisted with preparation for the 5K fundraiser that supports animals that are in need of shelter and awaiting adoption.

Salvation Army Senior Center - Those that love to play video games had an opportunity to help run a Wii bowling tournament for the seniors at the Salvation Army. Teams competed against each other and prizes were awarded in this lunch time event in the spring semester.

Capital Area Therapeutic Riding Center - This centers specializes in the therapeutic benefits of children with special needs riding horses regularly. Volunteers assisted with care of the facility, assisting with riders, and learning about this great opportunity outside of Harrisburg.

Kings Gap Clean-Up - Enjoying the beautiful fall weather, students joined community members to help clean up the nearby State Park area. Trails were cleaned, garbage collected, and preparations for the fall were in place at Kings Gap State Park after our volunteer efforts.

Giving Tree - Annually Dickinson College students and staff help provide gifts for the children at the Children's Home in Mechanicsburg. These 65 children are living in group homes, separated from their families for many reasons. Over 125 gifts were collected last year to help these children celebrate the holiday season.

Planting for Claremont Nursing Home - Earth Fest is a time to celebrate the outdoors and learn about ways to care for our surroundings. Volunteers extended the joy of the outdoors to our elderly friends at Claremont Nursing Home with decorated pots and beautiful spring flowers. 100 pots were delivered to celebrate Earth Day at Claremont.

Trail Mix Treats - Bags of trail mix and Easter cards were shared with the recipients of Project SHARE, the local food bank. Students assembled the bags and made cards during an Open House weekend, involving current and future Dickinsonians.

Painting at Hope Station - A small group of volunteers were essential to help improve the bathrooms and hallways at Hope Station, a local agency for at-risk youth. A fresh coat of paint changed the atmosphere and brought life to these areas of this well-used agency near Dickinson's campus.