The Juice Box Hours & Menu
The Juice Box and the Kline Fitness Center go hand in hand, giving Dickinsonians healthy lifestyle options. The Juice Box features freshly made juices and smoothies as well as healthy salads and snacks. Juices and salads feature fresh produce and items from the Dickinson College Farm during the growing season. All juices are made to order. A variety of selections are available for students using Meal Exchanges. The Juice Box is a great place to charge up before or recharge after a workout!
Hours are subject to change with the academic calendar and campus breaks. Check for special hours here
Academic Hours of operation:
Monday - Friday: 11 a.m. - 6 p.m.
Saturday: 1 p.m. - 3 p.m.
Sunday: Closed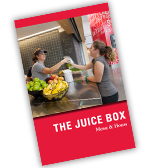 Menu
View The Juice Box menu here.