Engaging the Community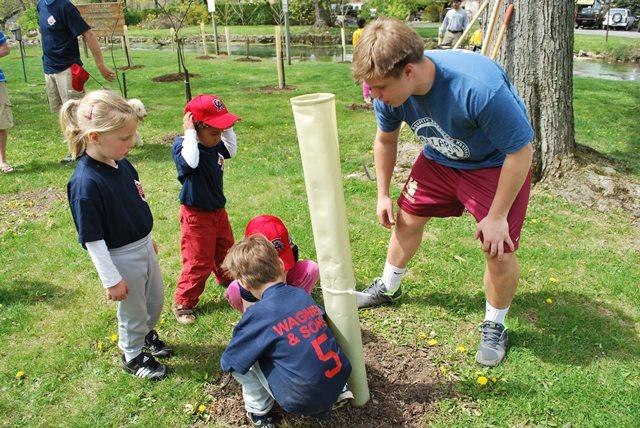 Stormwater comes from storm drains all around Carlisle, but the untreated discharge is concentrated directly into the Mully Grub and the LeTort Spring Run (through 7 additional stormwater outfalls). Therefore, protection of the stream requires the participation of the entire community. ALLARM employs multiple means of community outreach to educate and engage the community: posters in local businesses, ads in the Carlisle Theatre, festivals, workshops, and stormdrain marking events.
See the most recent pictures from ALLARM's Stormwater Campaign activities with the community below!
Letort Festival
Each year, ALLARM and the Carlisle Stormwater Steering Committee host the Annual LeTort Festival at the LeTort Park on East Pomfret Street. The event is intended to simultaneously entertain and educate citizens on the beauty and importance of the LeTort Spring Run to the surrounding community. There are food vendors, kid-friendly activities, local craftsmen and artists, and musical performers, as well as community groups and educational material on the LeTort Spring Run. Highlights in the past have included stream clean-ups and tree plantings. See ** Media Features** for stories on the LeTort Festivals by local newspapers. In 2011, ALLARM hosted a LeTort Service Day to revitalize the quality of the LeTort with tree maintenance, clean up, and filling of a sink hole. See pictures below.
Stormdrain Marking
ALLARM and the Borough of Carlisle are working to place stormdrain markers on the curbs at each of the 900 storm drains throughout the town. The markers read "Don't Dump, Drains to LeTort", reminding passersby that all materials that enter through the drain will go directly into the LeTort. ALLARM has worked with local high schools as well as boy scouts to lay down as many markers as possible. Most recent marking events include Spring 2010 and Fall 2010 where a total of over 60 volunteers and 500 stormdrain markers were placed. All who are interested in helping should contact ALLARM to enquire about future events!
Rain Barrel Workshops
As a part of the effort to reduce the amount of stormwater, ALLARM will be hosting workshops teaching the use of rain barrels. These barrels are wonderful tools for capturing rain water for future use in the garden, washing the car, etc. There is a growing interest in obtaining the barrels within the greater Carlisle community, and ALLARM hopes to empower citizens with the knowledge and skills to build and maintain their own.