Watershed Monitoring Resources
In order to make technical assistance resources more widely available to monitoring watershed organizations, ALLARM translated a number of its workshop tools and technical resources into manual form, made available online. The goal of ALLARM's watershed monitoring resources is to create a central place for watershed organizations to find the necessary background materials, presentations, manuals, and step-by-step directions that are needed to implement water quality monitoring programs.
Study Design
The process of making choices and decisions about your monitoring program is referred to as a "study design." This comprehensive manual takes you through a ten-step process to develop an effective monitoring program.
---
Shale Gas Monitoring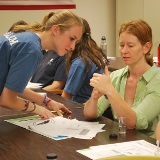 In response to community concern and call for assistance, ALLARM developed a monitoring program for communities interested in assessing small streams and their watersheds for early detection of the impacts from shale gas extraction in Pennsylvania. This link will take you to our Shale Gas Monitoring Toolkit.
---
Visual Assessment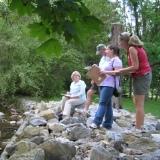 Visual assessment trains volunteers to evaluate stream health based on physical characteristics of the stream. This manual is ALLARM's modified version of the USDA Visual Assessment Protocol.
Visual Assessment Manual [pdf]
---
Chemical Monitoring
Chemical monitoring is a snapshot view in time of stream health. This manual focuses on quality assurance/quality control practices that are needed to maintain your monitoring equipment and use your kits and meters correctly.
Chemical Monitoring Manual [pdf]
---
Biological Monitoring
Macroinvertebrates are commonly used as biological indicator of stream health. This manual is ALLARM's adaptation of the Environmental Alliance for Senior Involvement (EASI) protocol.
Macroinvertebrate Manual [pdf]
---
Data Interpretation Guide
After you collect your data, it is time to find your water quality story! ALLARM developed a virtual watershed as an exercise to help you understand water quality trends and typical relationships to facilitate understanding your data.