Humans and the Natural World
Humans have a fascination with "nature," and we often seek opportunities in our leisure time to experience natural landscapes and environment. But what does it mean to talk about "nature" or "wild" environments untouched by humans in the context of the enormous impact that humans have actually had on nearly every land and marine environment. These seminars will bring multiple perspectives to the complex issues surrounding human interaction with other life forms and the environments around us. Shared activities, including field trips, will promote interaction among the students in these two seminars, and allow students to learn from the expertise of both professors.
Learning Community Coordinator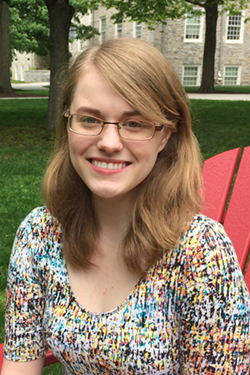 Your learning community faculty will be assisted by a student "learning community coordinator." The LCC assists the faculty in the planning and coordination of out-of-classroom LC experiences, and works with the learning community students directly to explore the learning community themes.
Allison Curley is from New Jersey. She's a rising Junior, majoring in Earth Sciences with a double minor in Italian and Archaeology. She is a Level III Montgomery Service Leader, a campus leadership development program in community service. She works with the ALLARM, the Alliance for Aquatic Resource Monitoring. She's also a peer tutor and a Multilingual Writing Center tutor. She is also an officer of the Circolo Italiano, the Geology Club, and the Dickinson Science Magazine. She loves going to Dickinson's performing arts productions, hiking, and hanging out with friends in the caf.
Biophilia: Human Connections to Other Life Forms
Do we need the natural world? Beyond our needs for resources, how and why do we interact with nature? For most of our history as a species, we have coevolved with other life forms in natural environments. Today many humans, and certainly most Americans, grow up in a transformed landscape with little direct experience of other organisms in natural contexts. What are the consequences of this extinction of experience? As a point of departure, the seminar will consider E.O. Wilson's "biophila hypothesis:" that humans have an innate, evolved, emotional tendency to affiliate with other life forms. We will evaluate this hypothesis by scientific methods and explore its implications for citizens of the 21st century. Areas of inquiry will include the definition of "nature," conservation biology and practice, nature and mental health, animal rights, the roles of garden, zoo, and wilderness, and the substitution of virtual for real experience of nature. Insofar as much of the meaning of biophilia can only be appreciated subjectively, the seminar will seek to build awareness of biodiversity through field work at the College farm and other locations near campus.
Professor: Tony Pires, Biology
Time: MF 11:30
Into the Wild: Exploring the American Wilderness
Walk northeast from the Dickinson College Farm and within minutes you will arrive at the Appalachian Trail, a footpath that stretches about 2,200 miles from Georgia to Maine. Each year, millions of Americans walk the Trail and visit other protected areas to immerse themselves in "wilderness." But what makes a place wild? In contemporary literature and film, wilderness is often portrayed as a refuge, a place to get away from it all. What is it that we value about wilderness? How have these values changed over time? This course explores the evolution of attitudes and policy toward wilderness in the United States. We will analyze the environmental effects of these practices as well as the social implications with respect to race, gender, and socioeconomic status. Sources that will inform our analysis will include books, essays, articles, television, films, and short field trips.
Professor: Alyson Thibodeau, Earth Sciences
Time: MF 11:30