Resisting Exclusion and Social Inequality
Resistance. It's a word that calls to mind many images of protest and conflict throughout history in the U.S. and around the globe. This learning community brings together seminars that will examine various forms of resistance to injustice and oppression internationally and domestically, combining historical case studies and contemporary issues. Interaction with students across these three seminars and the perspectives from the three faculty members will allow you to explore these social justice issues in depth.
Learning Community Coordinator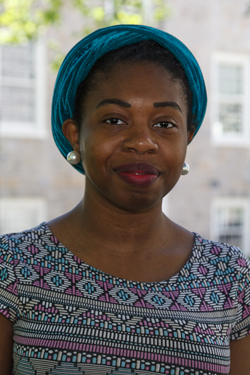 Your learning community faculty will be assisted by a student "learning community coordinator." The LCC assists the faculty in the planning and coordination of out-of-classroom LC experiences, and works with the learning community students directly to explore the learning community themes.

Seto Olayomi is a Senior, majoring in Sociology. She's an international student from Nigeria and has also lived in the UK for a number of years. She is the current social media assistant for the Trout Gallery, and also volunteers as a student interviewer for the Admissions Office.
Civil Disobedience in History
This seminar will discuss and define the concept of "civil disobedience" based on analysis of multiple historical case studies, including: Mahatma Gandhi's satyagraha (non-violent resistance) in South Africa and India; sit-ins organized by the Student Nonviolent Coordinating Committee (SNCC); and the recent occupation of federal land by Standing Rock Sioux and allies to block the Dakota Access pipeline. Our focus will be on non-violent disobedience, but we will explore whether violence is ever justified. Students will visit the National Museum of African American History and Culture and the National Museum of the American Indian as part of the process of researching and producing a documentary film about an act of civil disobedience.
Professor: Jeremy Ball, History
Time: MWF 11:30
Belonging and Exclusion, Here and Now
Who belongs in our society? How do people gain the rights that are needed to actually claim rights and privileges? Who lacks those rights, how are they excluded, and how do they work to create belonging? Progressive change requires establishing practical guarantees of equality in laws and policies, even though such formal realms do not always directly determine people's everyday experiences of belonging and exclusion. Many people, for example, are routinely deprived of rights and privileges they are entitled to as citizens, effectively denying their citizenship in their everyday lives. In our seminar we will use detailed case studies to examine multiple facets of belonging and exclusion, citizenship and rights. With attention to people's own words and actions, we will pursue locally textured understandings of ongoing struggles over belonging and rights that have recently been brought into the foreground of public consciousness. We will examine experiences involving race, ethnicity, gender, sexuality, immigration, and religion as these take on new forms, meanings, and urgency. Students will work collaboratively to understand people's efforts to create belonging, shape the meanings of membership in communities, and establish the right to have rights in everyday life. We will occasionally join with two related seminars to share activities, including a trip to Washington, D.C. to visit the new National Museum of African American History and Culture.
Professor: James Ellison, Anthropology
Time: MWF 11:30
Indivisible, With Liberty and Justice for All? Marginalizing Politics and Acts of Resistance
The United States Pledge of Allegiance states, "I pledge allegiance to the flag of the United States of America, and to the republic for which it stands, one nation under God, indivisible with liberty and justice for all." This statement articulates not only fidelity to the nation, but that the nation is one of unity, equality and justice for all its people. How, then, do we understand the history of oppression against racialized others, women, religious minorities, and other groups that have been subjected to institutions, policies, and discourses that deny them the very rights implied in the Pledge of Allegiance? In this seminar, we will investigate not only the politics of marginalization, but also the means by which oppressed and disadvantaged groups have organized to fight for their civil rights and to challenge the prevailing representations of them as inferior, incapable, dangerous, or pathological through individual and collective performances of resistance. Using written texts, films, photos, music, and exhibitions, we will think critically about how the history of oppression and resistance is documented. Students will then work collaboratively to document contemporary politics that serve to other particular groups of people, and the ways in which this is challenged. This course includes field trips to Dickinson's Trout Gallery and to Washington, D.C. to visit the new National Museum of African American History and Culture.
Professor Patricia van Leeuwaarde Moonsammy, Africana Studies
Time: MF 11:30