Modernity and Its Legacy: Past Ideas and Their Contemporary Importance
Learning Community Coordinator
Your learning community faculty will be assisted by a student "learning community coordinator." The LCC assists the faculty in the planning and coordination of out-of-classroom LC experiences, and works with the learning community students directly to explore the learning community themes.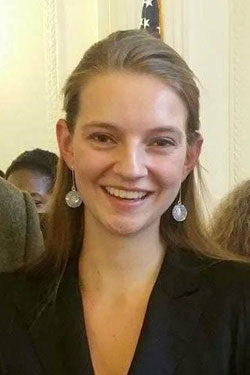 Mollie Montague is a rising senior, double majoring in Sociology and Spanish. She's originally from Gloucester, VA and spent her junior year studying in Ecuador, Argentina and Spain with Dickinson.

She's a triton host with the admissions office and is also involved with the Swing Dance Club, the Office of Disability Services as a proctor, the Spanish Club and the Random Acts of Kindness Club.
She's also been involved with several small theater productions, WDCV radio, and student leadership. She enjoyes studying with friends on Morgan Field, volunteering in town, baking, and going to talks on campus.
1. Modernity and Its Legacy: Past Ideas and Their Contemporary Importance

We are dealing with increasing unrest fueled by issues of race, class, technology, and religion, and democracies around the world are turning to more authoritarian tactics of rule. But none of these issues are new. Karl Marx's critical analyses of capitalism and exploitation, Sigmund Freud's investigations into the unconscious and our discontent in civilized society, Charles Darwin's explanations of evolution and species development, Mary Shelley's attempts to come to terms with technology, W. E. B. Du Bois' account of the importance of race in modern life, and Hannah Arendt's explication of the origins of totalitarianism all contributed to changes in the ways in which people lived and thought in the 20th century and continue to do so today. In this class we will read, critique, and write about selected works from these thinkers (and a few others) in order to better understand their relationships to one another and to the ways in which history has since unfolded. By understanding these ideas from the past, we can gain a better understanding of our present.
Professor: Karl Qualls, History
Time: MWF 12:30
Professor: Dan Schubert, Sociology
Time: MWF 12:30