As communication and other technologies advance in a dizzying pace, we have a responsibility to step back and consider the impact—personally and socially. What are benefits, and what are the known and often-hidden dangers, not just in terms of productivity or convenience, but also in moral and ethical terms? This learning community brings together multiple perspectives to consider communication, ecology, identity, literacy, media, nanotechnology, and politics in light of the dizzying pace of technological innovation.

Learning Community Coordinator
Your learning community faculty will be assisted by a student "learning community coordinator." The LCC assists the faculty in the planning and coordination of out-of-classroom LC experiences, and works with the learning community students directly to explore the learning community themes.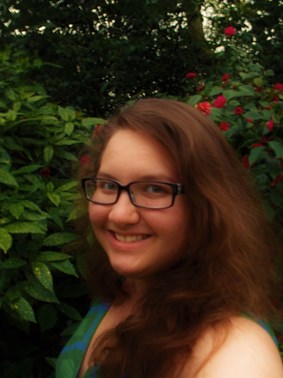 From a young age, Olivia Wilkins knew that she was destined to be a scientist. From digging for rocks and collecting bugs to looking at water samples through a microscope, her childhood in New Oxford, PA, was full of scientific curiosity and exploration. Olivia is a senior Chemistry and Mathematics major with a passion for Astronomy. She still work with water samples (with much more sophisticated equipment than a simple microscope) in the chemistry department at Dickinson, and she has done research involving radio astronomy, inspiring her to pursue research in astrochemistry. In addition to scientific pursuits, Olivia enjoys painting, drawing, knitting, and riding trains. She also aims to communicate science effectively to a variety of audiences, fusing research and scientific ideas with creativity and entertainment.

From Facebook to Face Time: Living and Learning in the Digital Age

The "Millennial Generation" is often lauded and criticized for how intrinsically immersed in digital, social, and multi- media its members are. In contrast with older generations who experienced the advent of new technologies – including the Internet, "digital natives" can hardly imagine a world without the context of cyberspace. Cognitive development, social practices, and academic tasks have radically evolved in light of these technological advancements. How we "read" the world, represent ourselves and our ideas to others, and what "counts" as knowledge, have all changed drastically. Is this generation (and future ones) comprised of more critical creators and consumers of information and resources than previous ones? Defining literacy as the ability to represent one's ideas and understanding using multiple media, this seminar will examine what it means to be literate and successful – socially, academically, and professionally – in the 21st century. Key theoretical perspectives will be explored through the lenses of literature, popular culture, and educational theory.

Fiction and non-fiction works studied in whole or part will include Brave New World; 1984; Persepolis; Literacy in the New Media Age; Digital Literacies: Concepts, Policies, and Practices; New Literacies: Changing Knowledge and Learning. In addition, a selection of digital and multimodal texts will be read and analyzed in this seminar.

Professor: Elizabeth Lewis, Education
Time: 12:30 MWF

Nano-Dreams and Nano-Nightmares: Hype and Hope for Nanotechnology in Society

Nanotechnology is an emerging and growing field that may have profound effects on how we live. Medicine, energy, computation, weaponry, and basic materials may soon include nano-components. Nanotechnology could even change what it means to be human. As with all transformative ideas, nanotech requires us to think about what role it may play in our world. What is this technology and what can it do for society? Where can it be abused? What don't we understand and how can we come to understand it? This seminar will explore ideas in the nano-realm and will ask us to consider how nanotechnology can fit into or redefine our lives.

Professor: Sarah St. Angelo, Chemistry
Time: 11:30 MF

Science Friction -- Dystopian Visions

At its best, Science Fiction can present us with thought experiments about possible future societies, extrapolating from present social and technological trends in order to project visions of where humankind might be going. While some such visions are quite benign—for example, Gene Roddenberry's Star Trek universe presents an Earth that has transcended nationalism, war, and poverty—many are alarming, presenting warnings of disastrous outcomes of existing trends. This seminar will examine dystopian visions in several media, including novels, short stories, films, and graphic novels, alongside historical and social scientific accounts of the phenomena from which science fiction visionaries extrapolate. The structure will be built on three themes: Technology, Society, Ecology; Politics, Media, Institutions; and Identities. Books studied will include Frankenstein by Mary Shelley, He, She and It by Marge Piercy, Transmetropolitan by Warren Ellis and Darick Robertson, and Uglies by Scott Westerfeld, along with short fiction by E.M. Forster, Bruce Sterling, Octavia Butler and others. Films studied in whole or in part will include Blade Runner, Soylent Green, Brazil and Metropolis.

Professor: Edward Webb, Political Science
Time: 11:30 MF