Clothing and grooming are basic human characteristics rooted in the universal need to protect ourselves from the natural elements and make ourselves attractive to ourselves and potential mates. And yet, the clothes we wear and the cut of our hair are laden with symbolic meaning both to people within particular cultures and sub-cultures, and to outsiders who may misinterpret the cultural messages and stereotype on the basis of these misinterpretations.

African American cultures are recognized as rich innovators of fashion and style. Through a cultural studies lens, the varied fashion and hair styles can be explored for deeper levels of meaning. This learning community will bring faculty and students together to explore the interplay of these cultural icons, asking questions informed by historical, social, political and economic inquiry.

Learning Community Coordinator
Your learning community faculty will be assisted by a student "learning community coordinator." The LCC assists the faculty in the planning and coordination of out-of-classroom LC experiences, and works with the learning community students directly to explore the learning community themes.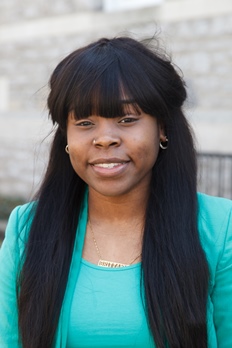 Brittany Barker is a senior English major and Creative Writing minor, with a focus is African American literature. She grew up in Harlem, NYC, and is active as a spoken word artist. As a junior, she studied at the Dickinson Humanities Program at the University of East Anglia in Norwich, England. She enjoys journaling, 'poem'ing, a hearty laugh and rereading Audre Lorde's Sister Outsider essays.

Fashioning African American Identities and Social Consciousness

This course explores the ways in which fashion styles and trends may be used to trace the development of African American identities and social consciousness. Specifically, we will examine the role of clothing in articulating African Americans' shifts in social status, gender identification, group affiliations, and political orientations, from the enslavement period to modern times. Moreover, we will analyze the cultural meanings ascribed to particular fashion, such as the head wraps worn by African American women, the dashikis worn by Afrocentrists, and hoodies and sagging pants worn by Black youth. Finally, we will consider the impact that African American fashion houses, particularly those started by hip hop moguls, are making on the mainstream fashion industry.

Professor: Lynn Johnson, Africana Studies
Time: 11:30 MWF

Tangled: African American Hair in the US

Afros. Dredlocks. Relaxed. Natural. Braids. Straight. Kinky. Curly. In this course, students will learn and examine the history of African American hair practices. Over the semester, we will consider the meanings of hairstyling as an aesthetic expression. What are the historical and contemporary relationships between African Americans, hair styling, and African American identity? Is hair political and if so, in what ways have African American used hair styling practices to assert both individual and community agency? What are the global economics of the African American hair care industry and what forces control the industry? The course will include historical and contemporary readings, films, and online exhibits. Writing assignments throughout out the course will culminate in each student compiling their own hair autobiography.

Professor: Crystal Moten, History
Time: 11:30 MWF