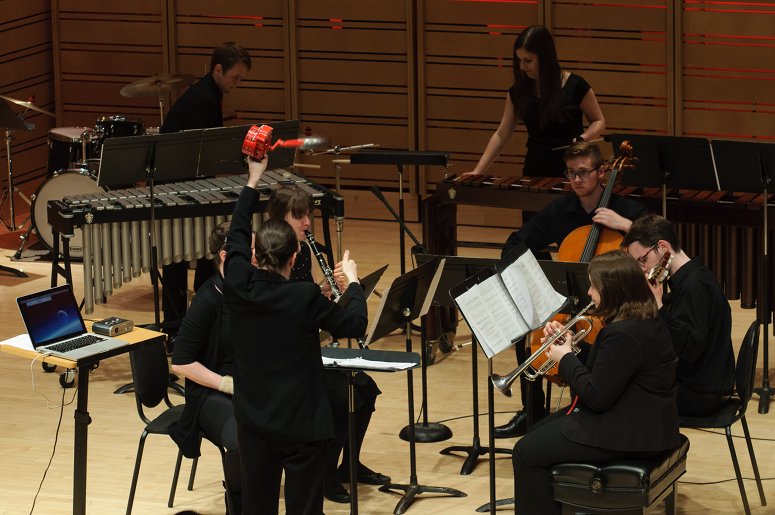 DICE (Dickinson Improvisation and Collaboration Ensemble) is a flexible ensemble open to all instrumentalists and vocalists. The group explores music ranging from fully-notated masterworks to experimental and improvisational scores depending on the experience, interests, and performance media of the members of the ensemble.
DICE also engages student members in the production and entrepreneurial skills needed to present successful performances. Students are encouraged to become actively involved in all aspects of the performance process including repertoire selection, composition of program notes and staging of the concert. DICE provides Dickinson student musicians of varying abilities and interests an outlet for their musical gifts and insight into the concert-making process, performing a minimum of two concerts on campus during each academic year.
Membership in DICE is open through audition at Music Audition Night to all Dickinson student musicians, regardless of major, supplemented by a varying number of Dickinson music faculty. Rehearsal and performance schedule are designed to accommodate the type of academic load often undertaken by Dickinson students yet allow for the development of the highest possible musical performance standards.
DICE rehearses on Thursdays from 7 to 9:15 PM in Rubendall Recital Hall and/or the Weiss Rehearsal Room. All members of DICE follow a strict attendance policy that prioritizes responsible commitment to their fellow musicians and their shared musical endeavors. For more information, please contact Dr. Elisabeth Stimpert (stimpere@dickinson.edu).