Dickinson College Music Outreach Program (DCMOP) was launched in 2009. Thanks to the generosity of Dickinson College Alumna Mrs. Mary Stuart-Smith '69, Dickinson College music faculty, guest artists, resident artists and students take live music and informative, engaging, colorful and inspiring presentations to the public schools in the area — particularly the Carlisle School District — in collaboration with the district's music director Byron Mikesell, and to other area schools K-12.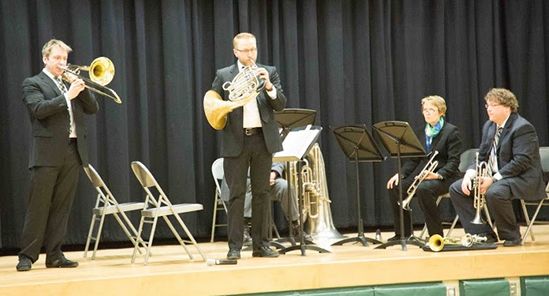 Dickinson College Faculty Brass Quintet performing a DCMOP Concert
Since DCMOP's commencement, Carlisle area children have enjoyed performances by the Faculty Brass, Wind Quintets and Jazz Quartet, string quartets, guitarist James Hontz, Dickinson students, pianist Jennifer Blyth, cellist Michael Cameron, and others, including guest and resident artists such as Gabriela Diaz, Chiara Quartet, Roomful of Teeth, Novus Quartet, Serafin Quartet, Galax Quartet, Third Coast Percussion and Florestan Recital Project.

To read more, click on the following links:
Carlisle Area School District

DCMOP Schedule 2014-2015
Fall 2014

---
September 2, 2014, FACULTY WIND QUINTET
10-10:30AM – North Dickinson Elementary School
1:30-2:00PM – Mt. Holly Springs Elementary School

September 17, 2014, FACULTY JAZZ QUARTET w/guest
9:00-9:40AM – Carlisle H.S. - McGowan Auditorium
1:45-2:15PM – Hamilton E.S.

September 18, 2014, FACULTY BRASS QUINTET
9:30-10:10 – Mooreland Elementary School
2:30-3:00PM – Bellaire Elementary School
October 8, 2014, AMERNET QUARTET
9:00-9:40AM – Carlisle H.S. - Swartz Auditorium
November 10, 2014, SARAH CAHILL
1:00-1:40PM – Wilson Middle School
November 11, 2014, SARAH CAHILL
9:00-9:40AM – Carlisle H.S. - McGowan Auditorium
Spring 2015
---
April 24, 2015, DICKINSON COLLEGE CHAMBER MUSIC
9:00-9:30AM – North Dickinson Elementary School

Additional programs, including Faculty and Student groups, TBA
To bring DCMOP to your school:
School directors and music teachers wishing to bring DCMOP artists to schools outside of Carlisle district – please contact the coordinator of DCMOP, prof. Blanka Bednarz at bednarzb@dickinson.edu or tel. (717) 243-4387 or mobile (717) 422-3399 by December of a given year (e.g. Dec. 2014), for the following academic year (e.g. 2015-16).

What children and teachers have said about the outreach program (selected):
The DCMOP has provided a wonderful learning environment for the students of Carlisle that many of them would not otherwise experience.

Byron Mikesell, Music Program Director, CASD
As music department chair, I treasured this program and looked forward each year to the possibilities of bringing new artists to our students. The students greatly appreciated this opportunity as well as my music staff and district administrators. Simply put this is an incredible program to continue for our students.

David Rohrer, Director emeritus of Music Program, CASD
Congratulations to Dickinson College for having such a talented group of folks on the staff… The [Wind] quintet performed at Wilson Middle School and were right on in terms of interesting music and spoken word. The quintet's artistry was most evident to the students when they purposely played out of tune and took time to demonstrate the benefits of consistent practice, then played again as it should sound. It was a great experience for all! Last week the quintet was once again fantastic in their choice of music and in their musicality. The students especially liked the "cat" piece where the quintet read/acted out the parts. I asked them if they would play a small section of a piece of our band music we are learning, focusing on phrasing and sound, and had the students follow along in their music. Wow, they sight-read it perfectly and made a big impression on my students in terms of playing together and sound quality. Hearing this group is a great experience for us all here at Wilson, and I hope it continues for years to come.

Victor Wertz, Wilson Middle School Band, CASD
Thanks again for bringing the performing groups to visit our school and inspire our students. The Chiara String Quartet was wonderful. Their musical selections were varied, demanding, and extremely expressive. And their interaction with the students promoted an inquisitive exploration style. I am so excited to talk with my students about what they learned from this experience. The Carlisle music department is blessed by DCMOP in making music come alive to students of all ages. Thank you very much for making this all possible!

Lynn Keefer, Orchestra Director, CASD
From teachers and students to Ms. Smith (selected):
Thank you for giving us the privilege to listen to many performances from many different areas of music.

Bailey Jensen
Thank you for making it possible for amazing groups to play for us. They give us inspiration to work hard and long to become like them. I will miss these opportunities when I move.

Emily Estep
Thank you so much! This is a really great opportunity to hear some really interesting pieces and to see different techniques!

Danielle McGowan
Thanks for the fabulous musical performances! They are so inspirational, and it is so exciting to hear what professional performances are like.

Amelia Winn
Thank you for your generosity and for inspiring Carlisle school students. With heartfelt gratitude,

Lynn Kiefer, Orchestra Director