Fellowship Recipients from the German Department
Many of our students have been awarded prestigious grants and fellowships to work and study in Germany, Austria, or Switzerland while studying at Dickinson College.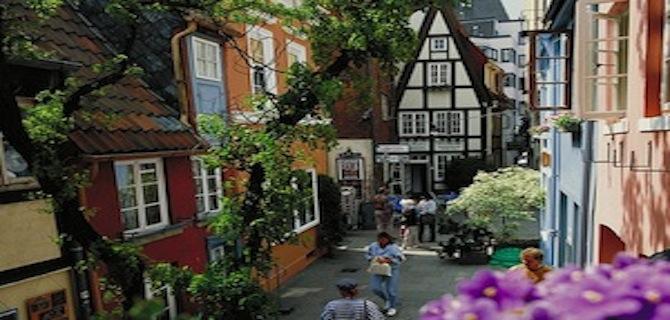 Schnoorviertel Bremen
Fulbright is an international exchange program providing scholarships for students and scholars to pursue study, research, and other engaging projects abroad. Several German students have received awards to study in Germany, or to teach English in Germany as an English Teaching Assistant (ETA).

The German Academic Exchange Service (DAAD) seeks to promote the international collaboration between students, scholars, and other researchers of higher institutions. Recipients are provided scholarships and grants to pursue further academic endeavors at highly recognized German institutions.

2012
Julie King was awarded the Fulbright ETA to teach English to elementary or high school students in Germany.
Allison Murawski, a German minor, was also awarded the Fulbright to conduct micro-ribonucleic acid (miRNA) research at Die Technische Universität München in Munich. Through the program Murawski seeks to develop new methods of fighting cardiovascular disease.
Joshua Eisen received an award from the DAAD to go to Germany.

2011
Faith Andrews, Gwyneth Van Son, and Hillary Rosen all received scholarships through the DAAD to study in Germany.

2010
Matthew Hayden, Katelyn Monfet, and Jessie Strassbaugh were all awarded Fulbright ETA scholarships to teach English in Germany.
Ethan Grandel and Rebecca Payne received awards through the DAAD program to go to Germany.

2009
Braeden Eastman (DAAD), Germany

2008
Caitlin Hahn, Daniel Walter, and Anne Maiale (Fulbright)
Katelyn Monfet (DAAD), Germany

2007
Shean Dolbow and Keely McGeehan, Germany

2004
Alexander Bobsein, Germany

2003
Lauren Hopper, Austria

2002
Deborah Herlocker, Germany

2001
Emma Kuntz, Andrew Sonin, Molly Lewis, and Rosemary McGunnigle, Germany.
Patrick Myers received a scholarship to Austria, and was additionally awarded the prestigious "Internationale Parlaments-Praktika" award sponsored by the Bundestag, the German parliament, (Berlin, Germany).

2000
Diana Steele and Robert Doyle, Austria

1999
Amy Getz, Germany

1998
Terry Lusebrink, Germany

1997
Lauren Buckno, Germany

1996
Megan Hanewald, Austria

1995
Amanda Benis, Germany and Samantha Pirog, Austria

1994
Yvonne Buysman, Germany

1992
Eric Usner, Austria

1991
Heather Jackson-Squire, Germany

1990
Jennifer Karvois , Germany

1984
Marcia Grove, Germany

1971
William G. Durden, Switzerland

1968
Frank Gallo, Germany