Children of Haiti Project - Summer 2015
New grads teach French to Haitian children
by MaryAlice Bitts-Jackson
The 7.0-magnitude earthquake that leveled Haiti in January 2010 had a profound effect on that nation's children. Some were lost or orphaned—the total death toll is estimated to be more than 230,000, by most accounts—and many of those who survived were displaced. A significant number of those who had attended school no longer had a school to attend.
In response, a board of international-education leaders formed the Children of Haiti Project (COHP), a nonprofit providing learning opportunities to displaced Haitian children with limited or no access to formal education. Last month, two recent graduates helped teach children in the COHP program, drawing inspiration from a Haitian author and the professor who introduced them to his work.
IGNITING A SPARK
Founded on the outskirts of Port-au-Prince, next to a camp for displaced Haitians, the COHP school enrolls a cohort of 50 children and educates them from early elementary grades through high school. Unlike most Haitian schools, the COHP provides bilingual reading, math and science lessons in Haitian Creole—the children's native tongue—as well as in French. To better prepare for college overseas, the children also learn English, and they all receive a hot meal at school every day.
So far, the organization reports, all signs point to success. Two years ago, after the refugee camp was disbanded and the children were dispersed throughout Port-au-Prince, the students continued to come to school—even though most must walk 45 minutes each way.
Assistant Professor of French & Francophone Studies Linda Brindeau learned about the school from Haitian author Makenzy Orcel, whom she'd invited to Dickinson in spring 2013 to work with students in her classes on Haitian literature and Francophone languages. That summer, Brindeau volunteered as a French-language instructor for the COHP, and on her return to Dickinson, she shared her experiences with students.
That included Molly DiLeonardi '15 (French, international business & management) and Christopher Brokus '15 (French, anthropology), who were enrolled in Brindeau's 2014-15 senior seminar on prostitution and sexuality in Haiti.
Brindeau assigned seven books for the seminar, including one by Orcel. With funding from a Mellon grant, she challenged the students to create podcasts based on their readings; she also invited Orcel back to campus to deliver careful critiques of the students' works.
"Through documentaries, interactive blog posts, poetry, film, books and author visits, we were able to truly explore these issues," DiLeonardi said, "and after spending a semester abroad in Cameroon and writing a French honors thesis on linguistic hegemony in Francophone Africa, I was interested in the opportunity to further explore Francophone culture."
So DiLeonardi enlisted Brindeau's help in securing a volunteer opportunity with the COHP. Brindeau agreed, and soon after, Brokus came on board.
A safe space for exchange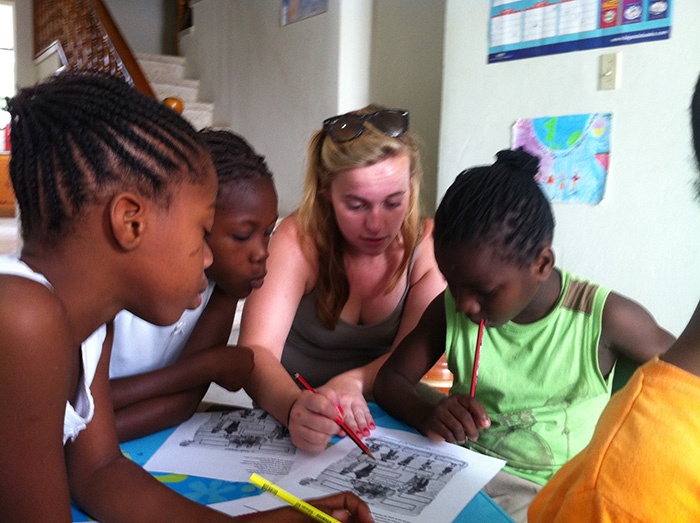 Molly DiLeonardi '15 and a few of her young pupils. Photo by Dominique Pierre, program director of Children of Haiti Project.
DiLeonardi and Brindeau arrived in Haiti during the first week of July, and Brokus arrived the following week. Throughout their stay, the new grads planned and taught a variety of lessons aimed at helping the children develop their oral and written French-language skills. All of the lessons were taught exclusively in French.
"The director of the school, Dominique Pierre, has done an incredible job creating a safe space for these children and for the volunteers they welcome throughout the year," said DiLeonardi, who enjoyed learning basic Creole from the children during recess and after hours, "and the students were incredibly eager to learn about us and the content we were teaching."
Next month, Brokus will build on those experiences when he begins a job as an English-language instructor in France. DiLeonardi, who speaks French every day as part of her job at the Bank of Montreal's Chicago office, remains interested in Haitian culture. She plans to come back to campus to attend a lecture by a Haitian-American author next spring.
Thinking back on his recent trip, Brokus marveled at the ways in which learning and service can intersect.
"It was an opportunity to interface and exchange with authors—instead of simply reading Makenzy Orcel's Les Immortelles, we spent two weeks in Port-au-Prince among his friends and colleagues," said Brokus, who also delved deep into his study of Haiti last semester when he worked with Associate Professor of Spanish Mariana Past as a Dana Research Assistant, translating an account of the Haitian Revolution by Rolph Trouillot.
"The encounters we create through our invited lectures are fruitful beyond just a simple visit," Brindeau agreed. "Meeting a writer in their classroom and being exposed to different cultures through their readings triggered an interest [in Haitian culture] that Molly and Christopher might not have known they could have."
Learn more
Published August 17, 2015