Dr. Alec G. Hargreaves - Spring 2013
A French Intifada?
Ethnic Relations in Contemporary France
A lecture with Alec G. Hargreaves, Emeritus Winthrop-King Professor of Trancultural French Studies, Florida State University
April 17, 2013
7:30pm | Althouse 106
Dr. Alec G. Hargreaves is Ada Belle Winthrop-King Professor of French and Director of the Winthrop-King Institute for Contemporary French and Francophone Studies at Florida State University. Formerly Chair of the Department of European Studies at Loughborough University, UK, he has held visiting positions at the University of Warwick, UK, Cornell University, USA, the Université de Lyon II and the Ecole Pratique des Hautes Etudes, France. A specialist on political, cultural and media aspects of post-colonial minorities in France, he is the author and editor of numerous publications.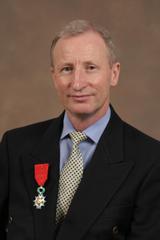 Dr. Alec G. Hargreaves
Dr. Hargreaves was named a Chevalier dans l"Ordre des Palmes Académiques (Chevalier in the French Legion of Honor), an élite Order of Merit originally created by Napoleon to recognize the work of outstanding researchers and educators, at a ceremony in Paris on September 27, 2006. Azouz Begag, French Minister for Equal Opportunities, conferred France's top national award on behalf of the French government in recognition of Hargreaves' contribution to strengthening Franco-American cultural relations.