Cyranose - Spring 2014
Cyranose is the product of a class clowning around with Edmond Rostand's 1897 theatrical masterpiece, Cyrano de Bergerac. Rostand's play is often described as the last breath of France romanticism. It is also a comedy, a tragedy, a love story, a tale of heroism, and a tour de force of French verse poetry, featuring the classical alexandrine, the 12 syllable line, so favored by many French poets and playwrights. The play is a theatrical and literary accomplishment that was an overnight sensation in fin de siècle Paris.
The students of French 362, "French Theatre: From the Page to the Stage" have taken on Cyrano de Bergerac by selecting the "greatest hits" of the play, some of the favorite speeches and scenes. These selected scenes in French are connected by narration and retellings in English to keep the audience informed of what's going on as the show moves along.
The students are clowns in this performance, all wearing silly noses, much like Cyrano de Bergerac himself, with his oversized nose that makes him feel unloveable. Wearing the red nose--what clown teacher Sue Morrison calls the "smallest mask"--is a way for the students to become somebody else, somebody bigger, smaller, sadder, happier, more vulnerable, braver than their everyday selves.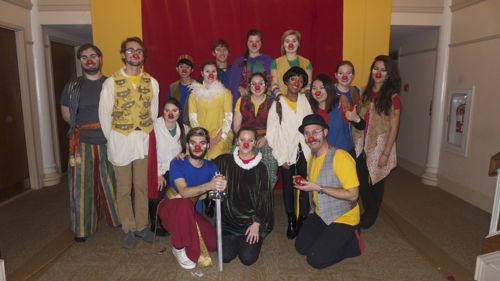 The students of French 362 after the performance. Click here to view more photos.