Fall 2012 Programs and Events
September 2012 Events
Friday, September 28
Beasts of the Southern Wild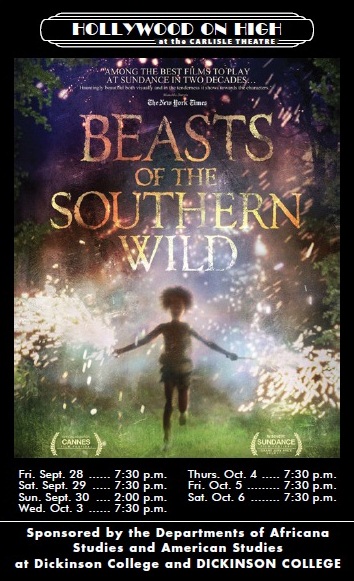 A portion of the proceeds for the October 5 and 6 screenings will be donated to Cumberland Valley Habitat for Humanity.
In a forgotten but defiant Louisiana bayou community cut off from the rest of the world by a sprawling levee, a six-year-old girl (Hushpuppy, played by Quvenshané Wallis) exists on the brink of orphanhood. Buoyed by her childish optimism and extraordinary imagination, she believes that the natural world is in balance with the universe until a fierce storm changes her reality. Desperate to repair the structure of her world in order to save her ailing father (Dwight Henry) and sinking home, this tiny hero must learn to survive unstoppable catastrophes of epic proportions. Hollywood on High is delighted to be able to bring you this superbly reviewed film by a first-time director (Benh Zeitlin) who is likely to garner an Oscar nomination. Beasts has already won four awards at the 2012 Cannes Film Festival, including the critics' prize, and the Cinematography and Grand Jury prizes at Sundance 2012.
*Sponsored by the Departments of Africana Studies, American Studies at Dickinson College and the Carlisle Theatre and Performing Arts Center*
Click here to view the movie trailer.
Location:Carlisle Theater 44 W. High Street (In Historic Downtown) Carlisle, Pennsylvania
Dates/Times: Friday, September 28, 2012.................... 7:30 P.M. Saturday, September 29, 2012................ 7:30 P.M. Sunday, September 30, 2012................... 2:00 P.M. Wednesday, October 3, 2012................... 7:30 P.M. Thursday, October 4, 2012........................ 7:30 P.M. Friday, October 5, 2012.............................. 7:30 P.M. Saturday, October 6, 2012.......................... 7:30 P.M.
Saturday,September 29 Africana Studies Fall Open House 2012
We welcome everyone with open arms to the Africana Studies Department annual Open House taking place September 29, 2012 from 3:30-5:00 pm in the student lounge on the ground floor of Althouse. As part of a co-sponsorship, we will be joined by the American Studies and Women's and Gender Studies Departments. This will be a great opportunity for students, parents and guests to meet department faculty and allow for more casual conversations regarding the majors and student opportunities. We look forward to seeing everyone soon.
Tuesday, November 27
So I Majored in Africana Studies and Archaeology ... Now What? How I used my Dickinson education to get a job at Sotheby's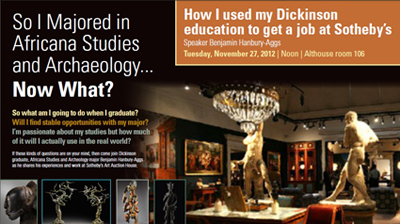 So what am I going to do when I graduate?
Will I find stable opportunities with my major?
I'm passionate about my studies, but how much of it will I actually use in the real world?
If these kinds of questions are on your mind, then come join Dickinson graduate, Africana Studies and Archeology major Benjamin Hanbury-Aggs '11 as he shares his experiences and work at Sotheby's Art Auction House.
Location: Althouse 106
Time: 12:00-1:00 pm
Thursday, November 29 African American Movement Music: From R&B and the Civil Rights Movement to Rap and Obama's America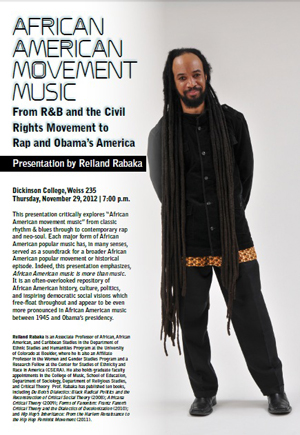 This presentation critically explores "African American movement music" from classic rhythm & blues through to contemporary rap and neo-soul. Each major form of African American popular music has, in many senses, served as a soundtrack for a broader African American popular movement or historical episode. Indeed, this presentation emphasizes, African American music is more than music. It is an often-overlooked repository of African American history, culture, politics, and inspiring democratic social visions which free-float throughout and appear to be even more pronounced in African American music between 1945 and Obama's presidency.
Reiland Rabaka is an Associate Professor of African, African American, and Caribbean Studies in the Department of Ethnic Studies and Humanities Program at the University of Colorado at Boulder, where he is also an Affiliate Professor in the Women and Gender Studies Program and a Research Fellow at the Center for Studies of Ethnicity and Race in America (CSERA). He also holds graduate faculty appointments in the College of Music, School of Education, Department of Sociology, Department of Religious Studies, and Critical Theory Prof. Rabaka has published ten books, including Du Bois's Dialectics: Black Radical Politics and the Reconstruction of Critical Social Theory (2008); Africana Critical Theory (2009); Forms of Fanonism: Frantz Fanon's Critical Theory and the Dialectics of Decolonization (2010); and Hip Hop's Inheritance: From the Harlem Renaissance to the Hip Hop Feminist Movement (2011).
Location: Weiss 235
Time: 7:00-8:00 pm