Fall 2013 Programs and Events
September 2013 Events
Friday, September 6
Fruitvale Station
Winner of both the Grand Jury Prize for dramatic feature and the Audience Award for U.S. dramatic film at the 2013 Sundance Film Festival, Fruitvale Station follows the true story of Oscar Grant (Michael B. Jordan), a 22-year-old Bay Area resident who wakes up on the morning of December 31, 2008 and feels something in the air. Not sure what it is, he takes it as a sign to get a head start on his resolutions: being better son to his mother (Octavia Spencer), whose birthday falls on New Year's Eve, being a better partner to his girlfriend Sophina (Melonie Diaz), who he hasn't been completely honest with as of late, and being a better father to Tatiana (Ariana Neal), their beautiful four year-old daughter. Crossing paths with friends, family and strangers, Oscar starts out well; as the day goes on, he realizes that changes are not going to come easily. His resolve takes a tragic turn, however, when BART officers shoot him in cold blood at the Fruitvale subway stop on New Year's Day. Oscar's life and tragic death would shake the Bay Area - and the entire nation - to its very core. This highly acclaimed film is already being mentioned for Oscar nominations. Joe Morgenstern of the Wall Street Journal lauds director Ryan Coogler's "spare, spontaneous style that can go beyond naturalism into a state of poetic grace," and his "gift for getting, or allowing, superb actors to give flawless performances." David Denby of the New Yorker calls Fruitvale Station "a confident, touching, and, finally, shattering directorial debut."
Location: Carlisle Theater
44 W. High Street (In Historic Downtown) Carlisle, Pennsylvania
Dates/Times:
Friday, Sept. 6, 2013................................7:30pm
Saturday, Sept. 7, 2013..............................7:30pm
Sunday, Sept. 8, 2013................................2:00pm
Wednesday, Sept. 11, 2013............................7:30pm
Thursday, Sept. 12, 2013.............................7:30pm
Sponsored by the Departments of American Studies, Africana Studies, and History at Dickinson College.
Saturday, September 28
Department Open House and Reception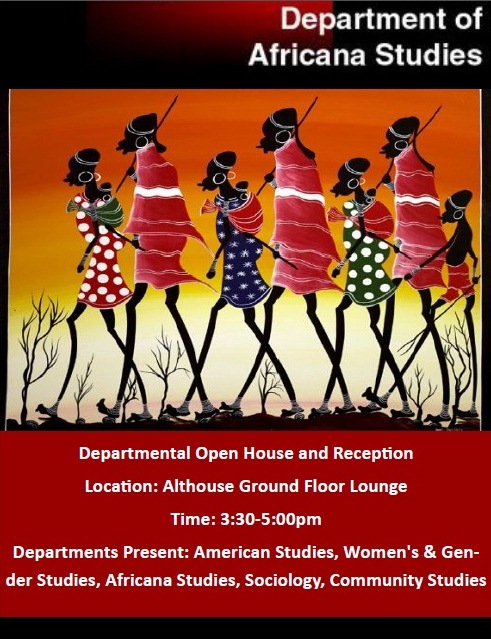 Please join the Department of Africana Studies for our Fall 2013 Departmental Open House during Homecoming Weekend.
Date: Saturday September 28, 2013
Time: 3:30-5:00pm
Location: Althouse Ground Floor Lounge
We will also be accompanied by American Studies, Women's & Gender Studies, Sociology, and the Community Studies Center.
November 2013 Events
Friday and Saturday, November 15-16th
Black Emancipations: Commemorating: A New Birth of Freedom in Africa & the African Diaspora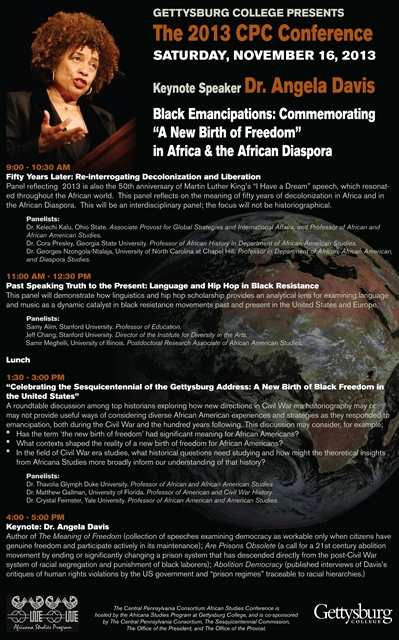 The Central Pennsylvania Consortium, founded in 1968, comprises Dickinson, Gettysburg and Franklin & Marshall Colleges. The consortium promotes institutional collaboration among the three schools and offers a wide range of academic and cultural programs for students, faculty, administrators, as well as residents in the surrounding communities.
The mission of the CPC is to assure and advance the general quality and the intellectual vitality of the member colleges.
Through an annual Africana Studies Conference, the CPC colleges explore the multifaceted and interrelated histories, cultures, and intellectual contributions of Africans and peoples of African origin on the continent and throughout the Diaspora.
The conferences seek to bring together scholars, visual and performing artists, and political activists who are critically engaged in the study and production of Black identity and/or Black communities.
The 2013 Central Pennsylvania Consortium Conference
Black Emancipations: Commemorating "A New Birth of Freedom" in Africa & the African Diaspora with Dr. Angela Davis as Keynote Speaker on November 16, 2013
Date: November 15 & 16
Location: Gettysburg College
The 2013 CPC Africana Studies conference will contribute to and expand the intellectual discourse of sesquicentennial commemorations by prompting scholars from different disciplines to examine the Emancipation Proclamation, the Gettysburg Address's "new birth of freedom," and the American Civil War in a broad spatial and temporal context.
Conference participants will interrogate the origins, processes, and outcomes of black liberation movements that have emerged and continue to emerge from civil wars and conflict in Africa and the African Diaspora. The conference will contribute to campus-wide diversity discussions and initiatives by prompting students, faculty, and administrators to consider the American Civil War and sesquicentennial events through a broad interdisciplinary context. The Civil War Era Studies program at Gettysburg College exemplifies how study of the American Civil War can break out of traditional confines. The conference uses the CWES approach as a springboard to draw students from different disciplines at Gettysburg College and the CPC schools into an environment in which they will examine black strategies for liberation amid conflict and the impact of emancipation struggles on gender, language, politics, and economics.
For more information about the conference please click here.
Monday, November 11
A Search Past Silence: The Literacy of Black Males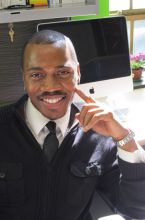 Join us to share an evening with special guest David Kirkland, a faculty member at NYU whose work revolves around issues related to race, language, and urban education. Kirkland will be talking about research conducted for his recently published book, A Search Past Silence: The Literacy of Black Males.
Date: Monday, November 11, 2013
Time: 7:00pm
Location: Stern Great Room
Biography
David E. Kirkland is a transdisciplinary scholar of language, literacy, and urban education, who examines the intersections among language, race, gender, and urban youth culture under the lens of literacy. His work has also explored, among other things, urban teacher preparation, digital media, and the sociopolitical aesthetics of revolutionary justice as (re)produced in artifacts of Hip Hop. He has spent the past decade analyzing the culture, language, and texts of groups of urban American youth, and has expertise in critical literary, linguistic, and ethnographic research methods. He has received many awards for his groundbreaking work including an NAEd/Spencer Foundation Postdoctoral Fellowship Award, a Ford Foundation Postdoctoral Fellowship Award, a NCTE Cultivating New Voices Fellowship Award, the 2006 AERA Division G Dissertation Award, among many others. He has published widely. His most recent titles include: "'Books Like Clothes': Engaging Young Black Men with Reading" (Journal of Adolescent and Adult Literacy), "Listening to Echoes: Teaching Young Black Men Literacy, and the Distraction of ELA Standards" (Language Arts), "'Black Skin, White Masks': Normalizing Whiteness and the Trouble with the Achievement Gap" (TCRecord), "English(es) in Urban Contexts: Politics, Pluralism, and Possibilities" (English Education), and "We real cool: Examining Black males and literacy" (Reading Research Quarterly). A Search Past Silence: The Literacy of Black Males is the fourth book that Dr. Kirkland has authored, co-authored, edited, or co-edited.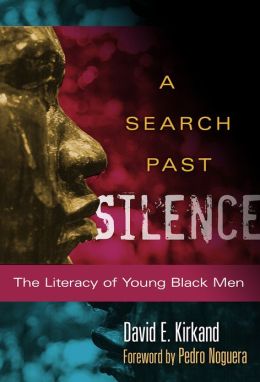 Publisher's Summary of the Book:
This beautifully written book argues that educators need to understand the social worlds and complex literacy practices of African-American males in order to pay the increasing educational debt we owe all youth and break the school-to-prison pipeline. Moving portraits from the lives of six friends bring to life the structural characteristics and qualities of meaning-making practices, particularly practices that reveal the political tensions of defining who gets to be literate and who does not. Key chapters on language, literacy, race, and masculinity examine how the literacies, languages, and identities of these friends are shaped by the silences of societal denial. Ultimately, A Search Past Silence is a passionate call for educators to listen to the silenced voices of Black youth and to re-imagine the concept of being literate in a multicultural democratic society. "These remarkable insights make it possible for us to reject the caricatures of Black males so that we can see them as they are."
Wednesday, November 13
For Colored Boys Who Have Considered Suicide when the Rainbow is Still Not Enough: Coming of Age, Coming Out and Coming Home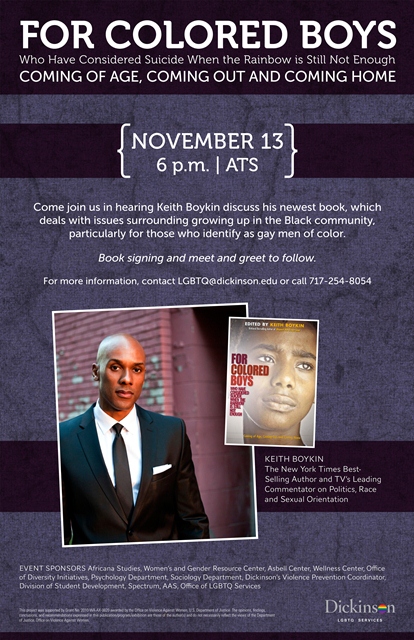 Keith is a The New York Times Best-Selling Author and TV's Leading Commentator on Politics, Race, and Sexual Orientation. He is the editor of The Daily Voice online news site, a CNBC contributor, and a BET TV host. He is a veteran of six political campaigns, including two presidential campaigns, and he was named one of the top instructors when he taught political science at American University in Washington. His newest book is titled For Colored Boys Who Have Considered Suicide When the Rainbow is Still Not Enough: Coming of Age, Coming Out, and Coming Home. It responds to the crisis of youth development and suicide in the black community, specifically among young gay men of color. He will speaking about his book and related subjects when he comes to campus on November 13th.
Books will be available for purchase and signing after the 6PM presentation.
Sponsors: Africana Studies, Women's and Gender Resource Center, Asbell Center, Wellness Center, Office of Diversity Initiatives, Psychology Department, Sociology Department, Dickinson's Violence Prevention Coordinator, Division of Student Development, AAS, Spectrum, and the Office of LGBTQ Services.