Spring 2014 Programs and Events
February 2014 Events
Wednesday, February 5
In the Mirror of the Gaze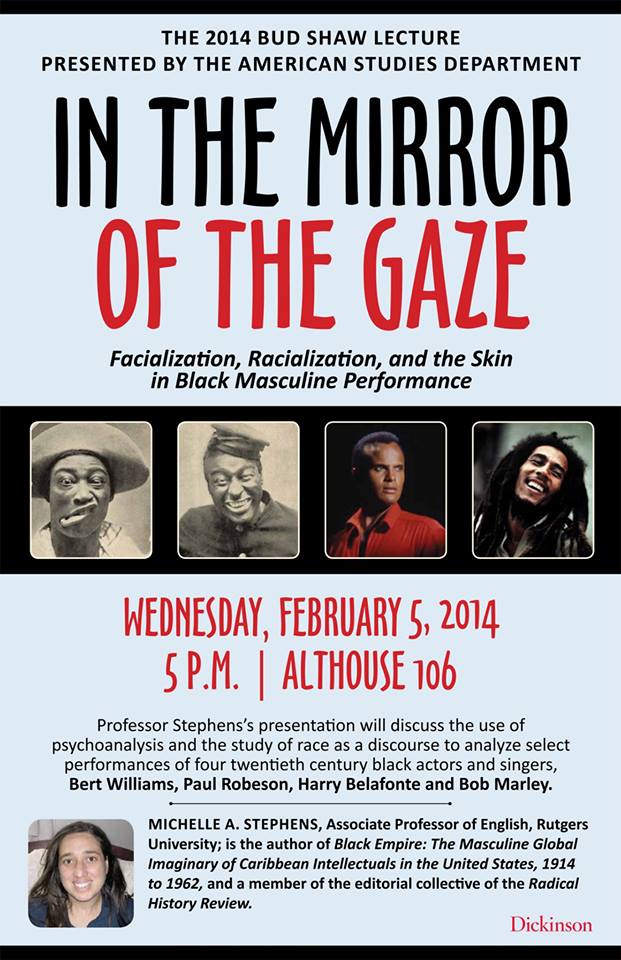 Date: Wednesday, February 5, 2014
Time: 5:00pm
Location: Althouse 106
Thursday, February 20
Cafundo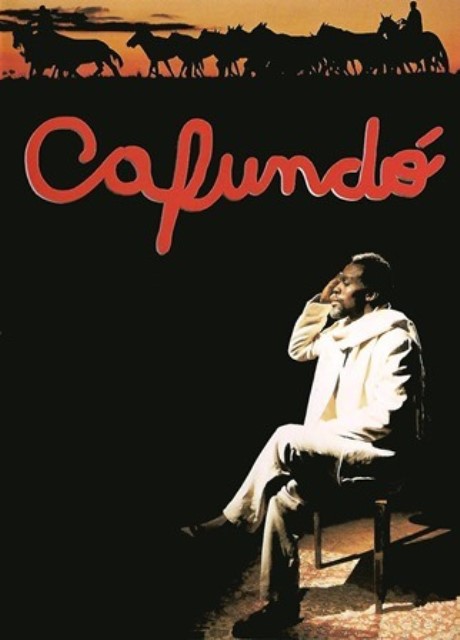 Date: Thursday, February 20, 2014
Time: 7:00pm
Location: Althouse 106
The true story of a man who rose from poverty to become a respected but controversial spiritual leader forms the basis of this historical drama. João de Camargo (Lazaro Ramos) was born into slavery in Sorocaba, Brazil, in 1858. Thirty years later, Camargo became a free man when slavery was abolished in Brazil, and he took up farming with little success. In 1906, Camargo began experiencing sacred visions, and in time the visiting spirits told him the Lord wanted him to build a church. Camargo built his house of worship and became the key prophet of a faith which embraced both Catholic teachings and the influence of African spiritual cultures which came to Brazil with the slaves. With the help of his friend Cirino (Leandro Firmino), Camargo's church became a powerful force in Brazil, but he also angered the nation's political powers that be, as well as the leaders of Brazil's Catholic clergy.
Directed by Paulo Betti and Clovis Bueno
Brazil, 2005
Running time: 1h41min
Thursday, February 27
Barravento (The Turning Wind)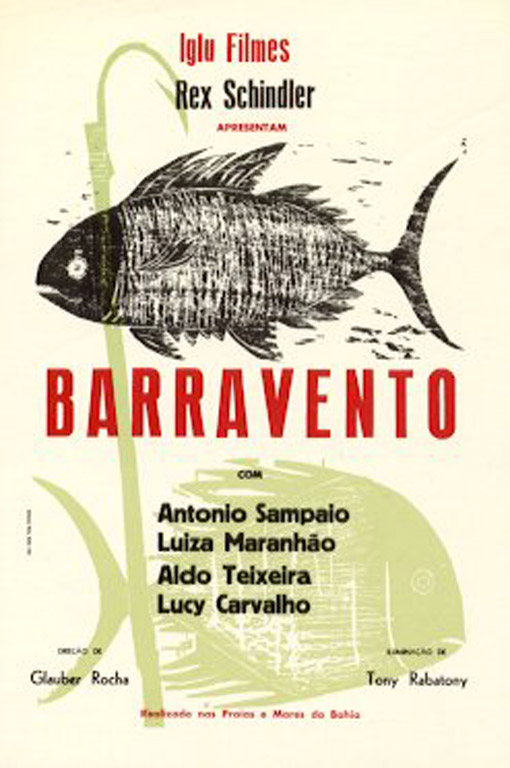 Date: Thursday, February 27, 2014
Time: 7:00pm
Location: Althouse 106
In the State of Bahia, Brazil, an educated black man returns to his home fishing village to try and free people from mysticism, in particular the Candomblé religion, which he considers a factor of political and social oppression, with tragic outcome. While the fishermen, whose ancestors came as slaves from Africa, persist old mystic cults connected to candomblé, the arrival of Firmino, a former inhabitant who moved to Salvador, running away from poverty, transforms the peaceable panorama of the place, and polarizes tensions. This is Glauber Rocha's directorial debut, a critical view of Afro-Brazilian religion and a hallmark of Brazilian Cinema Novo.
Directed by Glauber Rocha
Brazil, 1962
Running time: 1h20min
March 2014 Events
Thursday, March 6
Madame Satã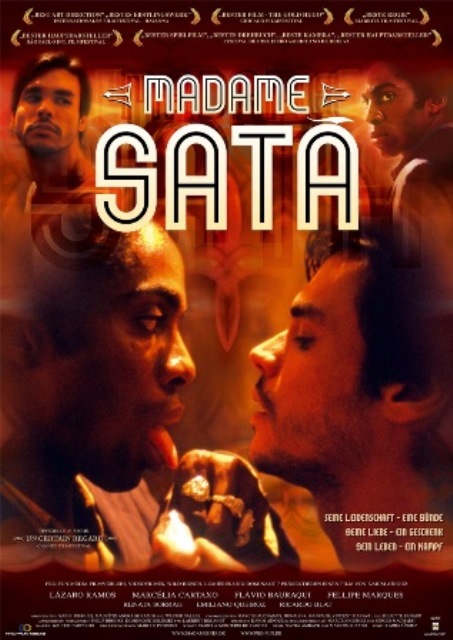 Date: Thursday, March 6, 2014
Time: 7:00pm
Location: Althouse 106
João Francisco dos Santos was a figure of no small infamy in Brazil during the 1930s -- he was a flamboyantly gay drag performer who was also a notorious criminal, thoroughly unashamed of his sexual orientation and willing to defend himself with deadly force if the situation demanded. Writer and director Karim Ainouz brings dos Santos' story to the screen in this vibrant drama seasoned with music and dance. A tall and physically imposing man, dos Santos (played by Lázaro Ramos), nicknamed Madame Satã, grew up poor on the streets of Brazil; and once he reached adulthood, he shared a home in one of Rio de Janeiro's less picturesque neighborhoods with a handful of friends, including prostitute Laurita (Marcelia Cartaxo), Taboo (Flavio Bauraqui), a nightclub performer who sometimes turned tricks for extra cash, and Renatinho (Felippe Marques), one of dos Santos' lovers. After landing a job at a nightspot called The Blue Danube, dos Santos grew fascinated with the elaborate costumes and choreography of the stage shows, and became a singer and dancer at the club. However, when the management declined to pay him, dos Santos took matters into his own hands and demanded his salary at knifepoint, leading to the first of many stays behind bars. Upon his release, dos Santos pledged to make his name as a cross-dressing entertainer.
Directed by Karim Ainouz
Brazil, 2002
Running time: 1h45min
Thursday, March 20
Terra Deu, Terra Come (The Earth Giveth, The Earth Taketh Away)



Date: Thursday, March 20, 2014
Time: 7:00pm
Location: Althouse 106
A descendent os slaves who worked as diamond miners, Mr Pedro de Alexina commands the funeral of his friend Joao Batista, dead at the age of 120. The burial takes place in the historical city of Diamantina and is performed in the Banguela dialect, as Mr Pedro is one of the last speakers of this African dialect in Brazil. Defying reality and myth with spontaneity, Mr Pedro blurs the frontiers between film and life. "The Earth Giveth, The Earth Taketh Away" was released simultaneously in commercial cinemas and a chain of 800 public cinemas around Brazil. It has been awarded with the most prestigious prizes for documentaries in Brazil and has been, acclaimed by critics as one of the most innovative contemporary Brazilian documentaries.
Directed by Rodrigo Siqueira
Brazil, 2011
Running time: 1h22min
Thursday, March 27
Jeannine Delombard: "Talking 'Lawyer-Like about Law': Slave Narratives & the Law, from Frederick Douglass to Solomon Northup"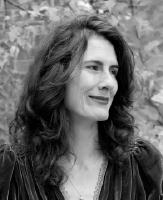 Trained in both US literature and Africana Studies, Professor DeLombard's main scholarly focus has been at the intersection of history of material texts, law and the humanities, and autobiography studies. Her books include Slavery on Trial: Law, Abolitionism, and Print Culture and In the Shadow of the Gallows: Race, Crime, and American Civic Identity. She has also published significant articles and state-of-the-field essays on such topics as Melville's Benito Cereno, Frederick Douglass's 1845 Autobiography, and the fugitive slave John Anderson's autobiography, as well as on the sub-discipline of Law and Literature, and relationship between the post-Civil War novel and the reconstruction amendments, and African-American Print Culture.
Date: Thursday, March 27, 2014
Time: 5:00pm
Location: Stern Great Room
When Hemingway observed that "All modern American literature comes from one book by Mark Twain called 'Huckleberry Finn,'" he cautioned readers to "stop" near the novel's conclusion, when Jim, young Huck's runaway slave companion, is taken captive on a Mississippi Valley plantation. Whether or not readers agree with this assessment, many share a discomfort with the novel's notoriously convoluted ending, in which Jim, unwittingly emancipated, becomes the plaything of young Huck and his friend Tom Sawyer while imprisoned on Tom's uncle's plantation. The novel ends with Tom Sawyer giving Jim $40 to compensate for his captivity. For many, the novel's conclusion restages the sort of racist minstrel shows Twain once professed to enjoy, with the joke here turning on the comical degradation of a grown black man by two mischievous white boys. Others note that the belated liberation and scant reparations afforded to Jim suggest an allegory of the nation's recent failed Reconstruction. Concurring with both readings, I suggest further that it is specifically through his novel's awkward ending that Twain joins in contemporary political and legal debates over the nature of Americans' responsibility for redressing the enduring harms caused by slavery and racism.
April 2014 Events
Thursday, April 3
Vegan Food Politics: A Black Feminist Perspective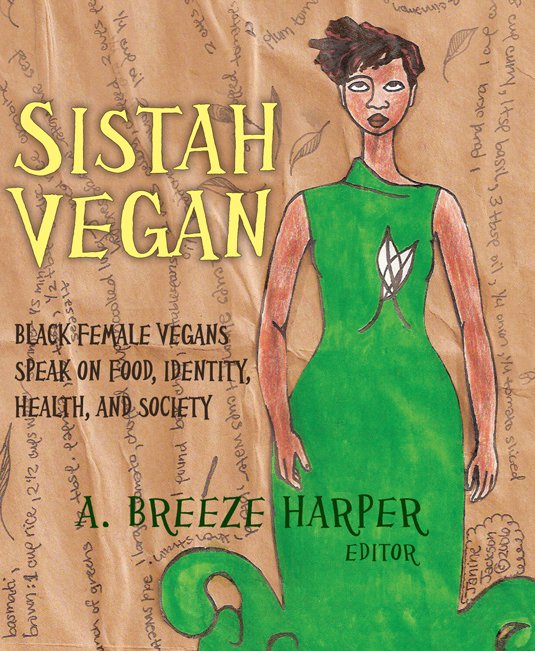 Date: Thursday, April 3, 2014
Time: 7:00pm
Location: Stern Great Room
Using the analytical lenses of critical whiteness studies and black feminism, this lecture will explore how issues of food, health, and "ethical eating" in American veganism are informed by embodied experiences with race, gender, and legacies of colonialism.
This event is sponsored by the Clarke Forum for Contemporary Issues and co-sponsored by the Department of American Studies, Women's and Gender Resource Center, Center for Sustainability Education, Office of Diversity Initiatives and the Departments of Africana Studies and Women's and Gender Studies
Wednesday, April 16
Capoeira Workshop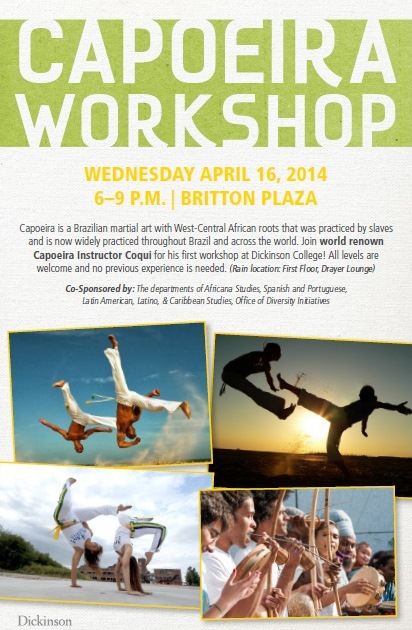 Date: Wednesday, April 16, 2014
Time: 6:00-9:00pm
Location: Britton Plaza (Rain location: First Floor, Drayer Lounge)
Capoeira is a Brazilian martial art with West-Central African roots that was practiced by slaves and is now widely practiced throughout Brazil and across the world. Join world renown Capoeira Instructor Coqui for his first workshop at Dickinson College! All levels are welcome and no previous experience is needed.
Co-Sponsored by: The departments of Africana Studies, Spanish and Portuguese, Latin American, Latino, & Caribbean Studies, Office of Diversity Initiatives
Saturday, April 26
AFST/LALC Senior Presentations