Spring 2012 Programs and Events
January 2012 Events
Monday, January 30th Marvin Victor, Haitian writer and Filmmaker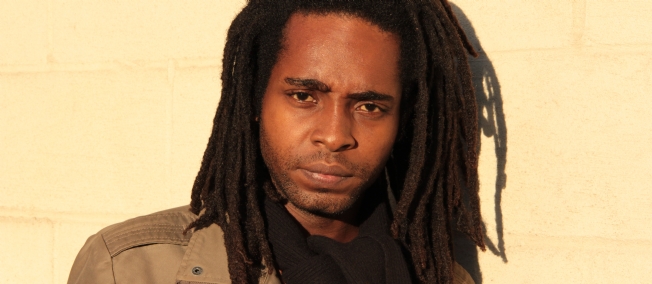 Mr. Victor has worked on a number of documentaries, shorts, and feature-length films, including the 2009 adaptation of Kathy Acker's novel, Kathy Goes to Haiti. His novel Corps mêlés was published in 2011, his short fiction has been included in the collection Hasdf Haiti Noir, and his articles have appeared in the magazine Conjonction. He is the recipient of the 2008 Young Francophone Writers Award and the 2011 Grand Prix du Roman de la Société des Gens de Lettres.
Date: Monday, January 30, 2012
Time: 6:30pm
Location: Stafford Auditorium
February 2012 Events
Friday, February 10th Martin Luther King, Jr Symposium: MLK and the Millennial Generation
Friday, February 23rd Central Pennsylvania Consortium Africana Studies Conference
Welcome to the Central Pennsylvania Consortium Africana Studies Conference. This year our theme is "Performing Memory, History and Identity in the Black World". We welcome abstract submissions, especially from graduate students. We look forward to welcoming you to Dickinson College.
Increasingly, scholars are making connections between Africana Studies and Performance Studies, noting that both of these fields employ methodological approaches that lie beyond the scope of traditional disciplines in order to investigate and illuminate the complex identities, histories and memories of individuals and communities that have been historically marginalized or rendered invisible within mainstream academia. In "Black Studies and the Racial Mountain," Manning Marable famously proposed that Black Studies should be descriptive, corrective and prescriptive, not only adding to the body of scholarship about black communities and reversing misrepresentations, but also challenging and transforming structures that perpetuate inequality within our societies. This stance resonates with Dwight Conquergood's challenge that Performance Studies incorporate imagination, inquiry and intervention. This conference seeks to build upon the bridges that connect Africana Studies with Performance Studies, explore the varied and exciting approaches that scholars and activists employ in their work, and create a forum for discussing new directions and trends in the study of black subjectivity, history and identity.
E. Patrick Johnson, "Pouring Tea: Black Gay Men of the South Tell Their Tales
Location: Weiss Rubendall Recital Hall
Time: 8:00pm
March 2012 Events
Thursday, March 22nd Love in Africa Film Series: "Woubi Cheri"
"Woubi Chéri is the first film to give African homosexuals a chance to describe their world in their own words. Often funny, sometimes ribald, but always real, this documentary introduces us to gender pioneers demanding their right to construct a distinct African homosexuality."Click here for more information about the film.
Location: Althouse 106
Time: 7:00-9:00pm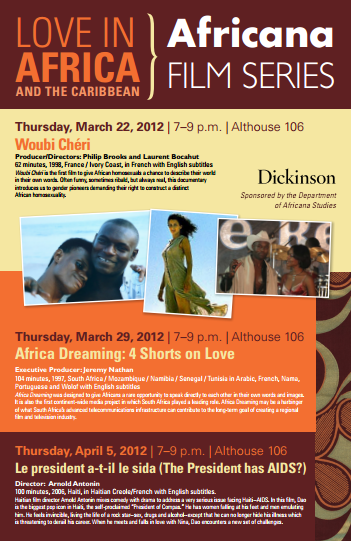 Thursday, March 29th Love in Africa Film Series:"African Dreaming"
"Africa Dreaming was designed to give Africans a rare opportunity to speak directly to each other in their own words and images. It is also the first continent-wide media project in which South Africa played a leading role. Africa Dreaming may be a harbinger of what South Africa's advanced telecommunications infrastructure can contribute to the long-term goal of creating a regional film and television industry."
Location: Althouse 106
Time: 7:00-9:00pm
Friday, March 30th Dance for Everybody - Urban Bush Women
Dance for Every Body is an embodiment of one of Urban Bush Women's Core Values: Validating the Individual, the idea that each individual has a unique and powerful contribution to make. This is a movement class designed for the community so folks with concert dance experience and those with no prior dance experience are all welcome.

Location: The Depot
Time: 6:00-7:30pm


SATURDAY, MARCH 31ST ENTERING, BUILDING AND EXITING COMMUNITY WITH URBAN BUSH WOMEN
The workshop is based on experiential learning. We embody effective leadership practices that strengthen and develop our understanding of community engagement. Participants gain tools and methodologies for entering, building and exiting community, including navigating a variety of assumptions regarding community-based practices. This workshop is not a presentational how- to guide about community relations. It is a dialogic mapping of experience using tools that may include theater games, writing, and movement exercise.
Location: The Depot
Time: 1:00-5:00pm
April 2012 Events
Thursday, April 5th Love in Africa Film Series: "The President Has Aids"
"Jimmy Jean-Louis -- featured among the cast of the television phenomenon "Heroes," -- stars as musician extraordinaire in denial, President, in this Haitian comedy-drama about the HIV/AIDS epidemic. Dao is the biggest movie star in Haiti, the self-proclaimed "President of Compas." He has women falling at his feet and men emulating him. He feels invincible-living the life of a rock star--sex, drugs and alcohol--except that he can no longer hide his illness which is threatening to derail his career. Despite pressure from his manager, he refuses to get tested for AIDS, turning instead to rituals, spells, and the church. At one of his concerts, he rescues Nina from the leery advances of Larieux, a wealthy and powerful businessman, who Nina's mother wants her to marry. As romance blossoms between Dao and Nina, who likes Dao despite his fame, not because of it, Larieux plots his revenge. Also starring Riccardo Lefeuvre and Jessica Geneus."
Thursday, April 12th Caribbean Cinema: Issues of Representation, Historical Development and Film Practices