HUB Mailbox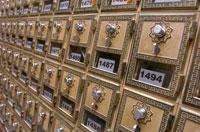 Students keep the same mail box for their four years at Dickinson, even if you go abroad. Students leaving campus for any reasons other than going abroad could be given a new mail box upon their return.
First Year Students will receive an e-mail at their Dickinson e-mail address prior to arriving on campus with information regarding their mailing address and hub box number. Hub boxes are opened by combination. After you arrive on campus come to the Student Mailroom to pick up your combination card. If you do not receive a box number via e-mail, you will be assigned one upon arrival.
Returning students must notify the student mailroom supervisor of their return; they will be assigned a new box number at that time or notified via their Dickinson e-mail address. FAS Mail Center Hours:
Monday - Friday
9 am - 4:30 pm.
Phone: 717 245-1210
Student Mailroom Hours:
Monday - Friday
9 am – 6 pm.
Saturday
10 am – 2 pm
Phone: 717 245-1298

Package Pickup:
Monday - Friday
10 am - 6 pm
Saturday
12 noon - 2 pm
Phone: 717 245-1973
All Offices CLOSED on Sunday's
Hours may vary during exams, breaks, and holidays